The Task List Panel shows the enhancement and redaction work list that has been applied thus far and is queued for processing.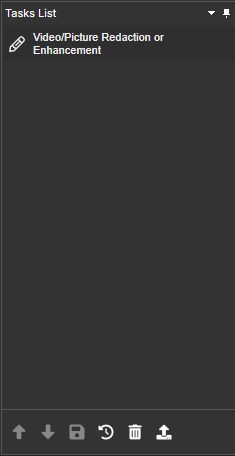 At the bottom of the panel you will find some tools that will help you manage your tasks:

Prioritize Processing
Prioritize Processing: decide what to process and in what order. Click the upward-facing arrow to prioritize whichever files you want to be enhanced or redacted first.

This will not change what enhancements or redactions you have completed, only the order in which they are processed.
Want to process later? click the downward arrow to deprioritize the file of your choice.
Save Work
Save Work: click to save your work. Please note, this will not render the work onto the child file you are working from. Rather, it saves everything in place, for you to re-open the file at a later date. Think of it as a bookmark.
Schedule for Later
If you work on several projects on any given day and then hold all projects in queue for processing, Schedule for Later is a handy tool.
If you have files that are very long, it can take hours for processing to complete, depending on the amount of enhancement and redaction work that was needed.
Rather than taking your machine down for processing, you can schedule the work to occur overnight. When you return in the morning, you'll have a list of completed projects that can move onto your next stage.
Schedule for Later: click to schedule processing for occur later.

Enter output file name, processed files will show in project files list after processing is complete.
Set the file name and file type.
Set time for when you would like the files to be processed.
Delete Tasks
Delete Tasks: Click to remove selected tasks on the tasks list.
Export Tasks
Export Tasks: click to process tasks. Use this tool when you have completed all work on the file in question, and are ready to complete the file. When you click it, CaseGuard will process and render tasks so that they are permanently burned into the child file you are working on.