When you open the software for the first time, the first thing you will see is the Get Started pop-up Window. This window will aid you in creating your first project, opening a recent project, or using the software's bulk redaction feature, among a host of other relevant functions.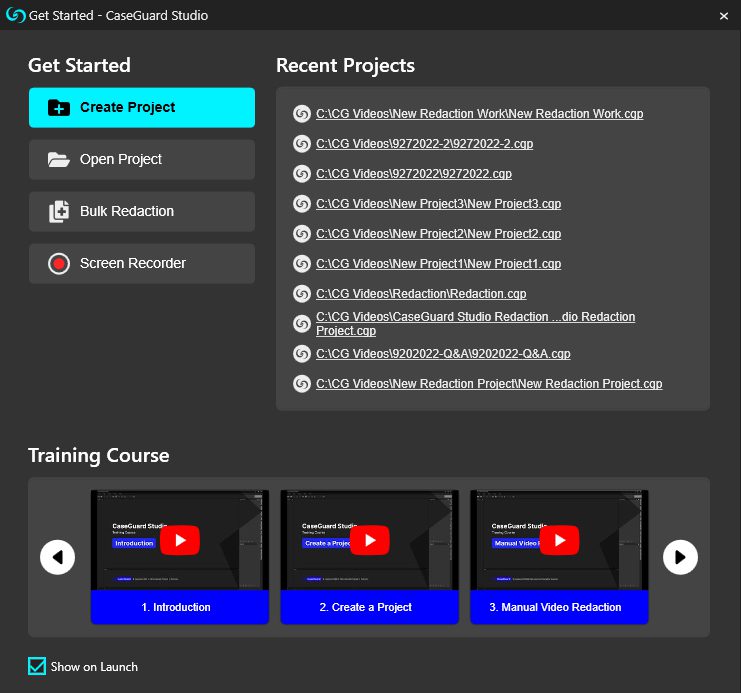 Create a Project
Open a Project
Add different media files to a project you have already been working on.
Mute, resample and bleep sound clips with one simple button click.
Edit video content using a host of different features.
Create photo albums in a number of minutes.
Redact PDF documents manually and automatically.
Add closed captions and transcribe audio, without the need for an additional software service.
Translate transcripts and captions in up to 31 languages.
Add pro audio effects including resampling, bleeping, and muting.
Bulk Redaction
Simplify your workflow by using CaseGuard Studio's numerous bulk redaction features. From FOIA and PCI-DSS compliance to state-level data privacy laws around the country, let our software handle your large-scale redaction and enhancement work.
Use the Redaction Pool, Bulk Redaction, and Watcher features to let the system do the heavy lifting as it concerns redaction and enhancement work, giving you the time and resources to focus on other relevant tasks.
Assign redaction reasons to all of your work within the software, should you need to present such information in a court of law.
Screen Recorder
Use our state-of-the-art Screen Recorder to capture video footage of any work that you conduct when working with the software. From training videos to the specific steps that an officer or government employee took when responding to a FOIA request, use the Screen Recorder to document every step you take when navigating the system.
CaseGuard Studio Training Course
CaseGuard Studio offers both active and prospective clients a library of training videos that will walk you through the basics of using our software step-by-step. From simple topics such as creating your first redaction or enhancement project to more nuanced issues such as accessing the metadata associated with the photos you have been editing within the software, our training course will give you the insight you need to use the software in the most effective and efficient manner possible at all times.
Export and share everywhere
Export files in a variety of professional formats, including 3gp, Avi, Flv, Mkv, MOV, mp4, mpg, MTA, ts, VOB, WMV, and many more.