The File Log keeps track of every single action you take in a file. It can be exported and printed later on.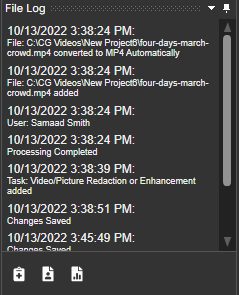 The File Log shows:
When the project has been accessed
Where the project was accessed
Where the project was located in your storage/server array
Who accessed the project and when.
Think of the File Log as the audit trail. It does apply to each file in the project, but rather records the activity for every file, instead of just capturing activity to the project file only.
Add Note
Add note: click to add a note to a specific frame (e.g., frame 73 of 473)  in a media file. Your note will be added to the log file associated with the file you're working on, and can be exported as part of a report.
Edit Project Information
Edit project information: click to edit project information, including: name of requestor, case number, and date of request.
Print Report
Print report: click to view an automatically generated report of your redaction work and redaction logs, including reports of transcription and translation services applied to your files.