CaseGuard is designed to accept any file type for upload. By default it accepts the extensions below:
Video
3gp, .avi, .flv, .mkv, .mov, .mp4, .mpg , .mts, .ts, .vob, .wmv
Audio
.dss, .m4a, .mp3, .wav, .wma
Image
.bmp, .exif, .gif, .jpeg, .jpg, .tif, .tiff, .wmf
Other
.doc, .docx, .pdf, .pps, .ppt, .pptx, .txt, .vsd, .xls, .xlsx
If your file is not in one of the above formats, you can change CaseGuard's settings so you can upload it.
Open CaseGuard Studio.
Select Tools > Settings.
Select the Extensions tab.
Add the extension you want under the appropriate file type. Before entering the file type, add a semicolon before the filetype extension. For example, if you added a .dav extension to Video Extensions, you would type ;dav in the Video Extensions entry.
Select Save.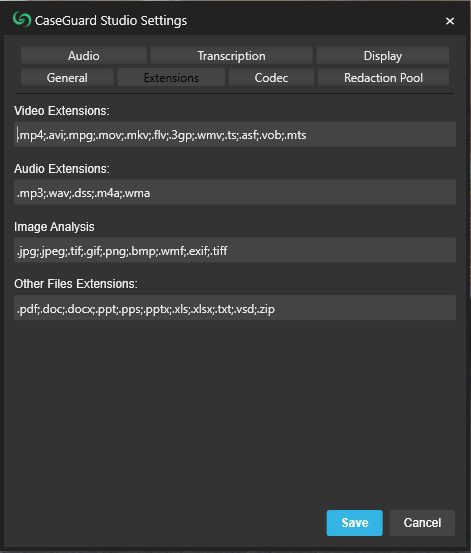 If your file format won't play in CaseGuard Studio
In the event you can't play your proprietary format file in CaseGuard studio, you can play it in its original player and record it in a standard format using CaseGuard Recorder.