When using CaseGuard Studio, you can create a new redaction or enhancement project in three different ways:
First, go to File -> New Project within the Menu Bar in the system.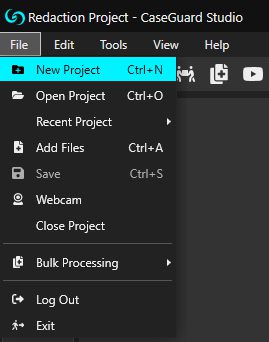 OR:

Second, click within the Shortcuts Bar in the software to create a new project.
OR:

Third, from within the CaseGuard Studio start screen, press (Ctrl + N) on your keyboard to create a new project.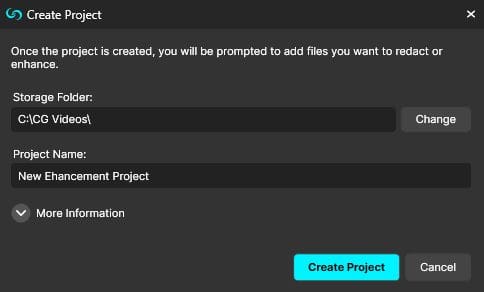 After you have created a project, you can then select the audio, video, pdf, document, email, or image files you want to import.
Before you upload, please be aware that your original files can't be renamed once they're uploaded. For this reason, we recommend that you name your files appropriately before uploading them. Nevertheless, you will be able to rename any files you redact or enhance when using the system. To learn about file naming best practices, see Prepare Files3 for Import.

Import media: From the Project Files Panel, click
to add more files to the project.
Files may be automatically converted to a standard format. When this process is done, the converted file will appear in the Project Files list.
If you have uploaded multiple files within your project, you can switch between these files by clicking on the appropriate thumbnail within the Project Files panel. Moreover, you can click the Save button within the Task List to ensure that you do not lose any work when working on multiple files in the system.
If you want to delete a particular file from your project, click the Delete button within the Project Files panel.
If you want to compare and contrast multiple files within your project simultaneously, click on the Compare button within the Project Files panel. This will then take you to the Compare pop-up window, which contains two separate media players that will allow you to play your video and audio files at the same time.