Overview
When redacting audio, CaseGuard's Analytics panel is the easiest way to detect and bulk remove groups' of Personally Identifiable Information (PII), such as Names, Social Security Numbers (SSNs), phone numbers, and addresses from audio recordings.
After using AI Audio, CaseGuard's Analytics Panel automatically groups the different types of Personally Identifiable Information (PII) together. This makes it easier for CaseGuard users to redact specific categories of PII all at once!
As an illustration, if an investigator needs to censor Personally Identifiable Information (PII) in a phone call, CaseGuard's Analytics can automatically transcribe the call and identify all instances of PII. With a single click, you can easily censor names and any other category of PII!
Follow the steps to Navigate the Analytics Panel!
Add your audio or video file containing audio in CaseGuard Studio.
Run AI Audio on your file:

Select the language of your file, or select the "Detect & Transcribe Multiple Languages" option if the file language is unknown.
Select the number of speakers.
Click "Transcribe."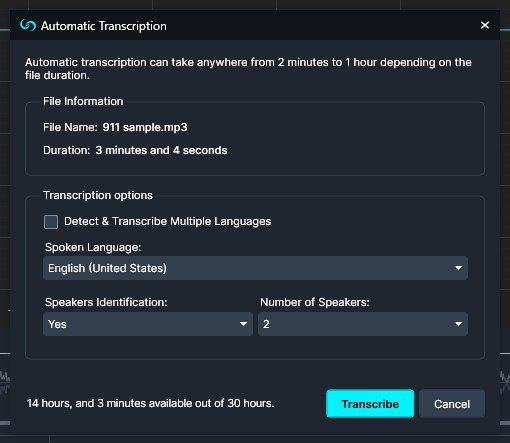 Next, pin the "Analytics" panel from the right side of the screen or from the View tab > Panels > Analytics.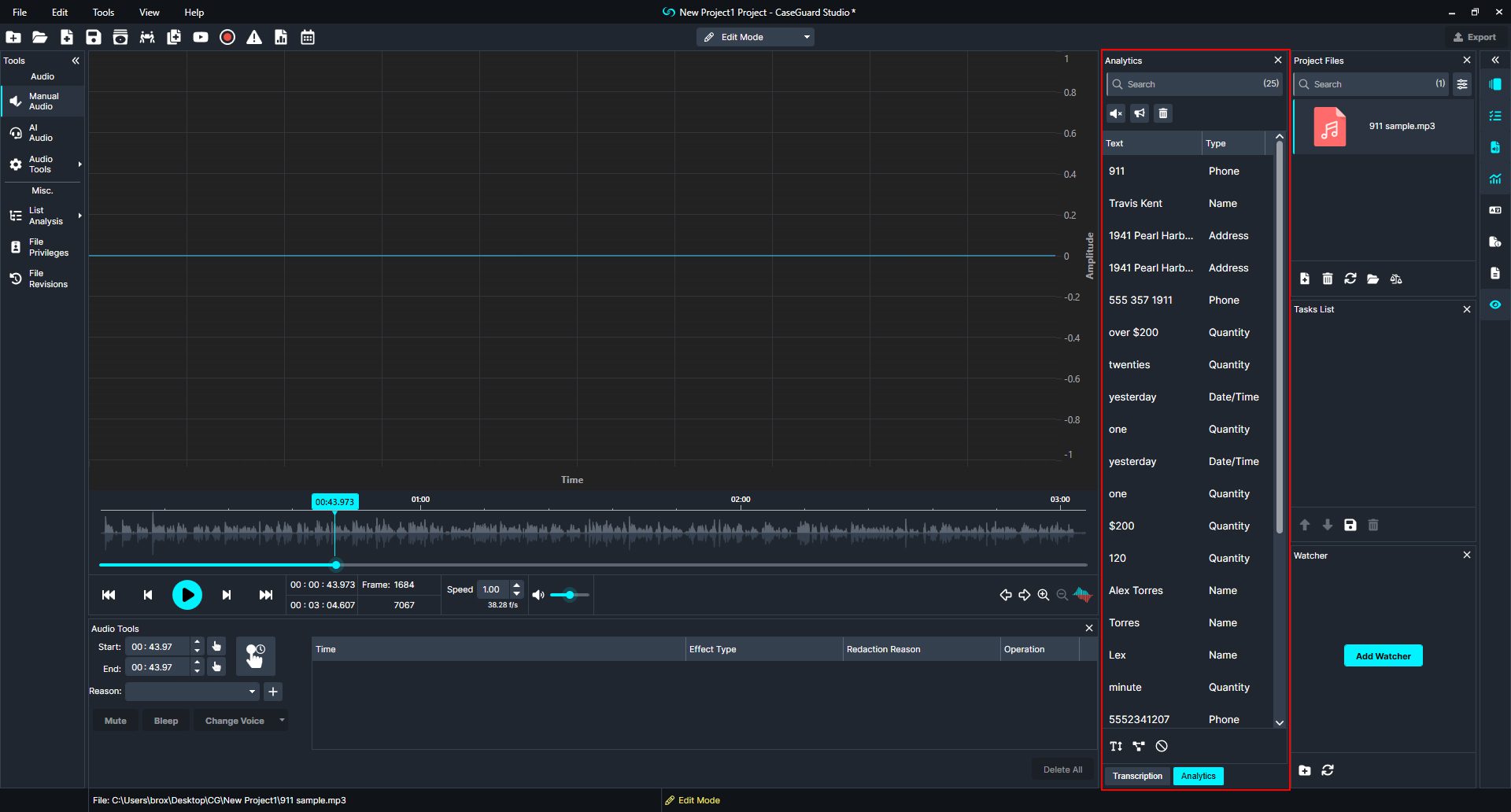 Once the Analytics Panel is pinned you can see a list of Personally Identifiable Information (PII) found in the audio.
You can search
Edit options for Audio include:

Add a "Mute"
Add "Bleep"
"Block" the system from detecting words from this file or future files

You can also use the search bar in the Analytics Panel to search for the word or type of Personally Identifiable Information (PII) you would like to "redact" or "edit" and press enter. All instances of the type or word will appear in the Analytics Panel.

The number next to the search shows the total number of Personally Identifiable Information (PII) found.
To search for a specific type of PII, click the Search bar, select "Type"  then "Is Equal To", and then select the Category of PII you would like redacted.

To redact all instances of the searched word/phrase at once, click the Mute, or Bleep icon at the top of the panel.
Once you have reviewed the redactions, click Export  from the Task List Panel or the Export button from the Shortcuts Bar to export your redactions.
Let's see it in action!