The Watcher's Watermark operation enhances workflows by automatically applying pre-defined watermarks to unlimited documents instantly!
To use the Watermark feature within the Watcher, it is important to create the watermark within CaseGuard and then apply it within the Watcher Operations to copy to all your other files instantly. Like all the other operations within the Watcher, you can use it in conjunction with any other operation.
For example, agencies can apply their own company logo through the Watermark operation on all their files while applying redactions through Watcher AI Text Analysis. This will expedite the redaction process in large documents as well as give your documents authenticity and brand consistency.
For those who prefer visual learning this YouTube video will help you set up Watermarks and perform AI Text Analysis using The Watcher.
Follow the steps to add a Watermark in Watcher
Click the "Watcher" tab on the right side of the screen. Click to pin the Watcher tab.
Click Add Folder to Watch icon 
  to set up the Watcher.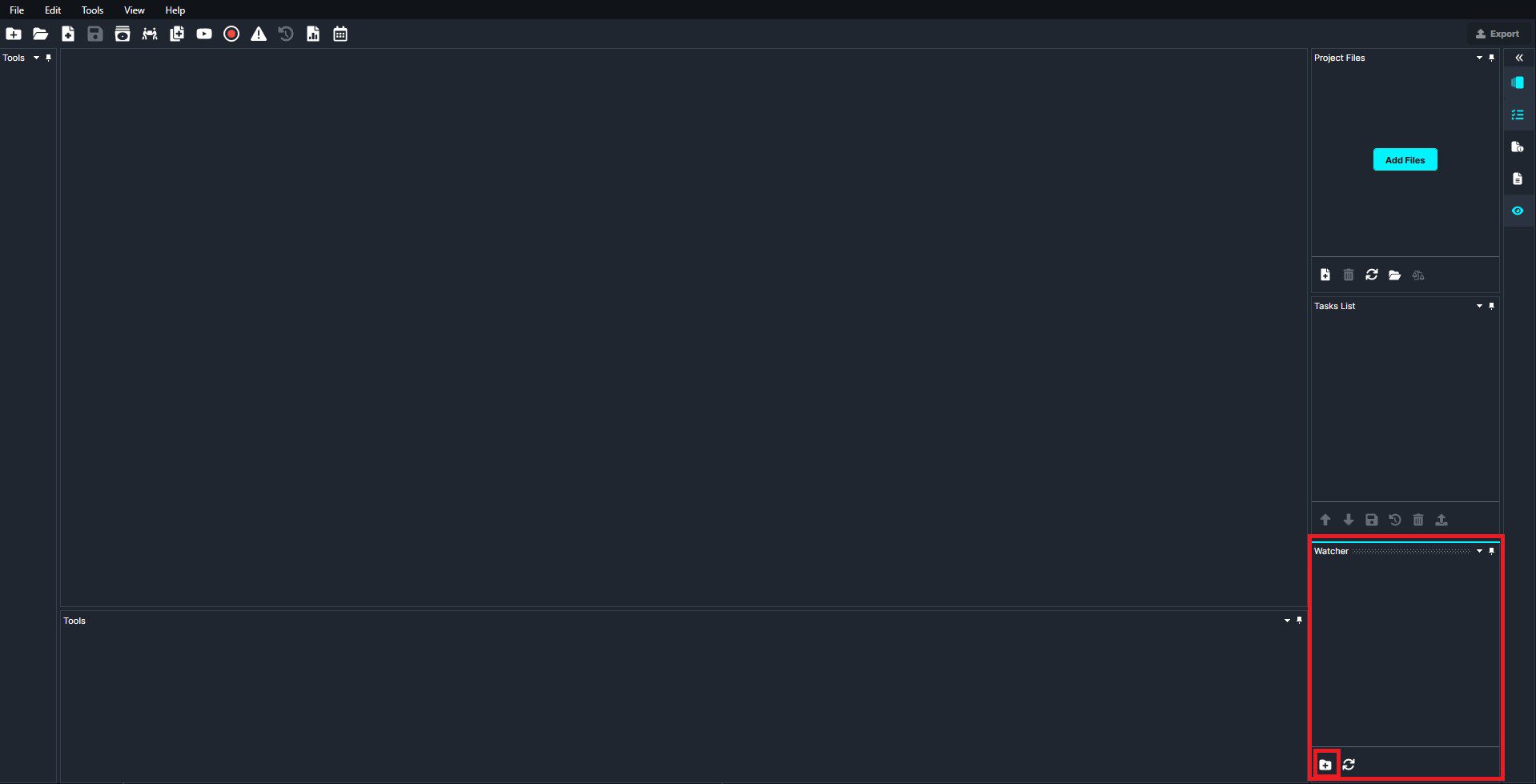 The CaseGuard Watcher window will pop up.
Add a Watcher Name.
Click "Browse" to add a folder to watch. This is the folder where all documents that need to be redacted will be input.
Click "Browse" to add an Output folder. This folder will contain all exported files after the Watcher processes and redacts the documents from the Watch folder.
To save history files of your operations in your Output folder, Select the "Keep history files for manual review" checkbox.
In the Operation dropdown, select "Redact Document."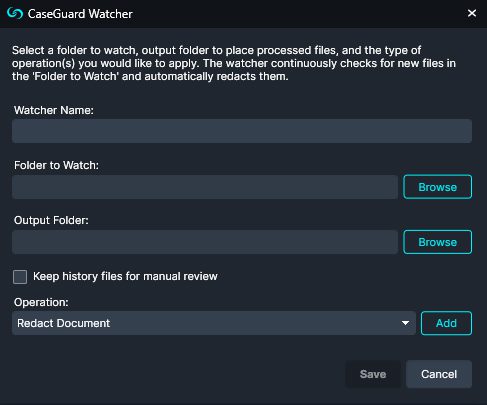 Once the Watcher is set up,  click "Add" and select the "Add Watermark" checkbox.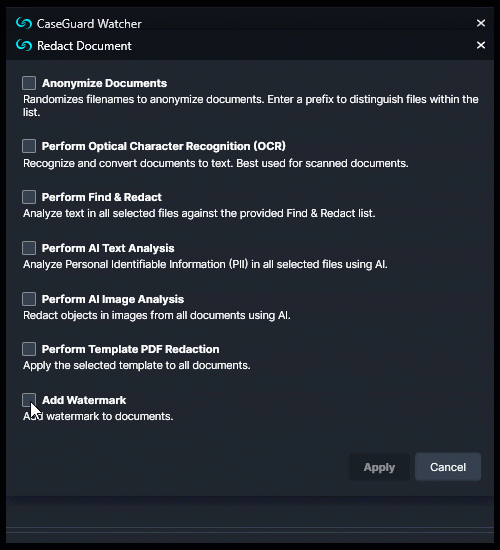 Click on the "Watermark" dropdown and select the watermark you would like to use in this Watcher. Additionally, to create a new watermark, follow the steps in Add a Watermark.
Click "Apply" then "Save."
Your Watcher should now appear in the Watcher tab.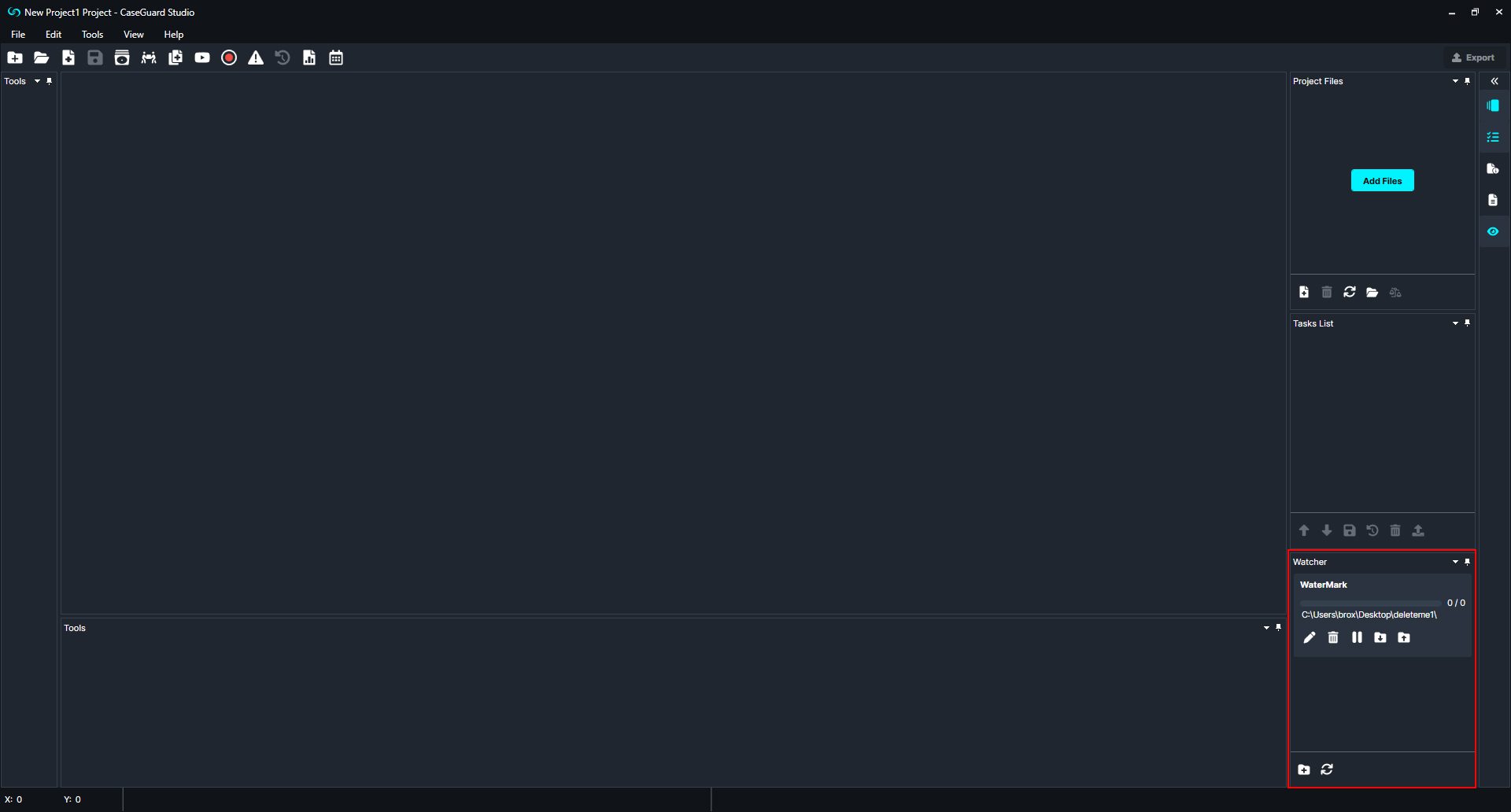 Under the Watcher progress bar, you have the option to open the settings , delete , or pause  the Watcher.

The settings icon will open up the Watcher window.
Delete  will completely delete the selected Watcher.
Pause will pause the Watcher operation.

The process will begin automatically if your files are already in the watch folder, otherwise, click the "Open Input Folder" icon and insert the files you wish to be processed.
Once complete, your files should have the selected watermark applied and exported to your output folder. You can access your output folder by clicking "Open Output Folder" in the Watcher.
Let's see it in Action!