Before you begin the installation process, please make sure that your PC meets the system requirements.
If this is the first time you're installing CaseGuard Studio onto your device, you will need to adhere to the following steps to ensure that the process goes as smoothly as possible. 
Sign in and install CaseGuard Studio
Sign in with the account associated with CaseGuard Studio. You'll be able to log in using the credentials you received from

[email protected]

.
After signing in, select Install CaseGuard to start the application download. The installation process will then begin.
CaseGuard Studio will open automatically upon the completion of the installation process.
The software will then prompt you to enter your login credentials before you begin using the program. Enter your Username and Password in the Login Popup to begin using the software.
Click Login.
You can now start using CaseGuard on your device.
Using Offline-Keys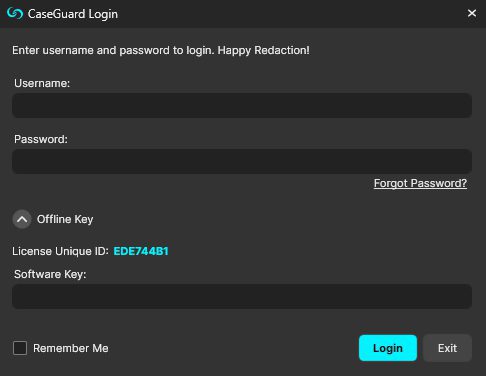 If a user intends to utilize CaseGuard Studio offline or in an air-gapped network we have offline keys available for accessing the software.
You will need to download the software. If the workstation is in an air-gapped network, you may need to use a flash drive to transfer CaseGuard's files from a computer with access to the internet to their air-gapped workstation.

Add CaseGuard's files to the computer/install the software. Once CaseGuard is added to the computer, you will need to open the software and expand the offline key section on the login prompt.

Reach out to your CaseGuard representative or [email protected] and provide the License Unique ID so an offline key can be issued.