Overview
The Audio "Translation" feature utilizes advanced machine learning algorithms to accurately translate spoken words in audio/video recordings. The intuitive interface allows users to select the source and target languages, making the translation process seamless and user-friendly. Within CaseGuard, you can automatically translate your transcribed audio into 31 languages.
CaseGuard users looking to translate an interview with a Spanish speaker can do so in minutes without any manual work. This feature is most useful for users dealing with multilingual individuals at work- either in a school setting or for investigative purposes.
Follow the steps to Translate Audio!
Add your audio or video containing audio in CaseGuard Studio.
Run Transcription on your file:

Pin the Transcription panel from the right side of the screen or from the View tab > Panels > Transcription.
Click "Auto Transcribe" from the panel and select the language of your file, or select the "Detect & Transcribe Multiple Languages" option if the file language is unknown.
Select the number of speakers.
Click "Transcribe."

Next, pin the "Translation" panel from the right side of the screen or from the View tab > Panels > Translation.
Click "Automatic Translation"
The "Automatic Translation" window will appear
Select the "Source Language" of the file and the "Target Language" to be translated to.
Click "Translate"
Once processed, the translation of your transcription will appear in the Translation Panel.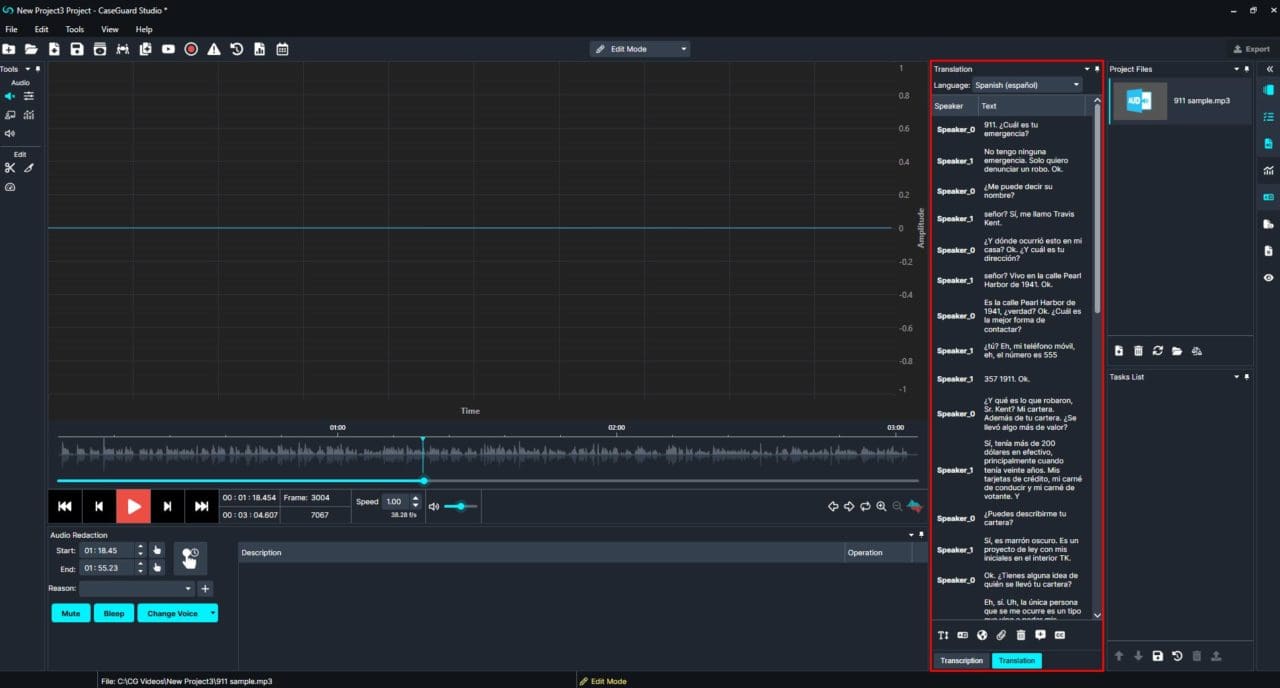 Under each Translated sentence, you can:

"Mute"
"Bleep"
"Change Voice" 
"Edit the translation"

At the bottom of the panel you have the option to:

Increase/decrease font size within the Panel
Automatic Translation: Translate into another language
Manual Translation: Add your own translation
Attach Translation File: Upload your own translation
Delete Translation: Delete the entire translation
Add Sentence: Edit a sentence within the translation
Burn Captions to File: Attach translation inside the video

Once you have reviewed the Translation, click Export from the Task List Panel or the Export button from the Shortcuts Bar to export your redactions.
Let's see it in Action!