CaseGuard can handle many different file types (including proprietary files) for videos, audio, images, PDFs, email messages, documents, and more. There may be instances where files may not be properly added to CaseGuard, which is where these tips come in handy!
1- Check if the File is Corrupt
First things first, make sure the file isn't corrupt, otherwise, CaseGuard will not be able to read it. You can check if the file is corrupt by opening the file outside of CaseGuard. If it's video or audio file try any player, like Windows media player or VLC. If it's PDF, try opening the file Adobe Reader. If it's an Excel file, try opening the file in Microsoft Excel and so on.
For Example, a corrupt video may not play or if it does, parts of the video may be missing.
2- Check the Original File Location
If the file you are trying to add to CaseGuard is not local (such as on a shared drive) try downloading it onto your local computer first and then adding that local file to CaseGuard.
3- Check your Disk Space
If you don't have much room on the disk drive you use CaseGuard on, adding a large file to your project may not work. You would need to either clear enough space or change the location of your CaseGuard project to a drive with more space.
4- Export your File into a Standard File Format
If you used a proprietary player to export your file, you could try to export from that player again to a different file format. We recommend exporting to a standard file format, such as .mp4, .avi, etc.
5- Check your CaseGuard Installed Version
You may need to update to the latest version of CaseGuard.
First you need to check if you are on the latest version, you can click "Help" in the main menu, then "Check for updates" to see the most recent version of CaseGuard.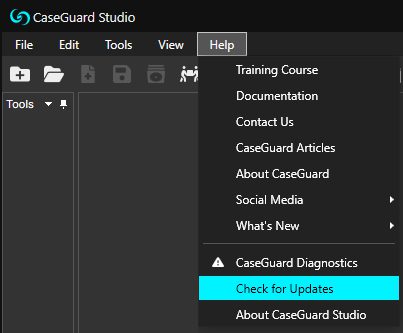 Check your current version of CaseGuard by clicking "Help" in the main menu then "About CaseGuard Studio".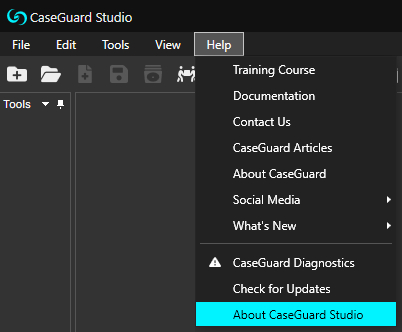 A popup should appear showing you what version you have downloaded.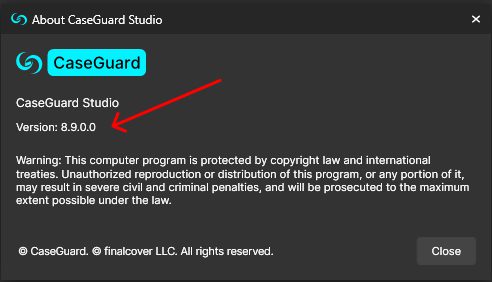 If you don't have the latest version of the software, close CaseGuard and re-open, you will be prompted to upgrade to the latest version. If you were not able to see the prompt, please contact your IT department to check if they need to do the upgrade on their end. If you are still not able to update, please contact us through [email protected] to help you with the update.
6- Adjust Extension Settings
Depending on the file type, you may need to add the file type extension to your Extension Settings.
Click on Tools then Settings then Extensions.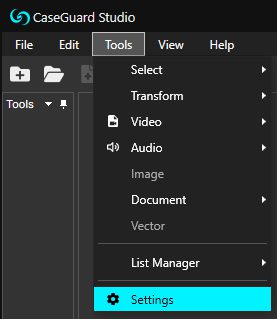 Click on Extension tab.
Add your extension to the associated file type.
Click Save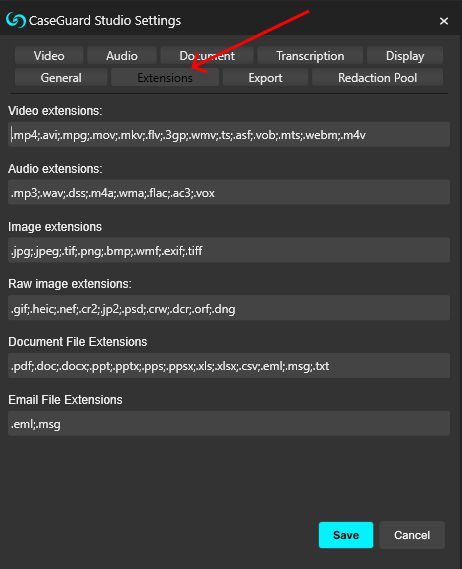 7- Change Video Processing Location
From CaseGuard main menu click on Tools then Settings.
Click on the Display tab.
Select the first check box "Try a different video processing location". Click Save and Restart the CaseGuard Studio application.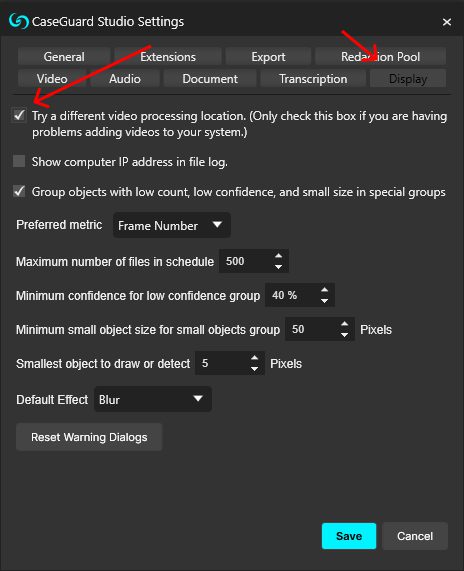 8- Convert the File Type
You can use software such as VLC to convert your file to another file type. The converted file may work instead.
9- Check your Antivirus software
You may be using antivirus software that is blocking key components of CaseGuard needed to add your files. Check what antivirus software is on your computer and make CaseGuard an exception to it or contact your IT department for further help making sure CaseGuard is not affected by it.
10- CaseGuard Recorder
If all else fails, you can use CaseGuard Recorder to record your video while it is playing to have a new recording of the video. You can access CaseGuard Recorder from the Get Started screen when you first open up the application.
Please Note: You may need to download CaseGuard Recorder if you have not already.