The AI Image Analysis function employs Artificial Intelligence to analyze and redact objects in images from an unlimited number of documents at once! This feature drastically reduces, if not eliminates, the amount of manual redaction required to complete your redaction process in documents with images.
If you are familiar with the AI detection feature in Video Redaction within CaseGuard Studio, performing AI Image Analysis within Bulk Processing will be second nature to you! The AI Image Analysis similarly requires you to select the type of objects you want the system to redact. You can select one or all from 18+ selections. CaseGuard users find faces/heads, images of checks, and payer/payee information most helpful when redacting in Bulk.
Users who need to redact documents that include photographs of applicants or images of their signatures, such as in resumes, reports, and certificates, will find performing redactions in the Bulk AI Image Analysis feature very helpful. Moreover, this function has a wide range of applications for various use cases involving images in documents.
Follow the steps to Redact using Bulk AI Image Analysis!
Click on the Bulk Processing Icon in the Shortcuts Bar at the top of the screen. The Bulk Processing window will appear.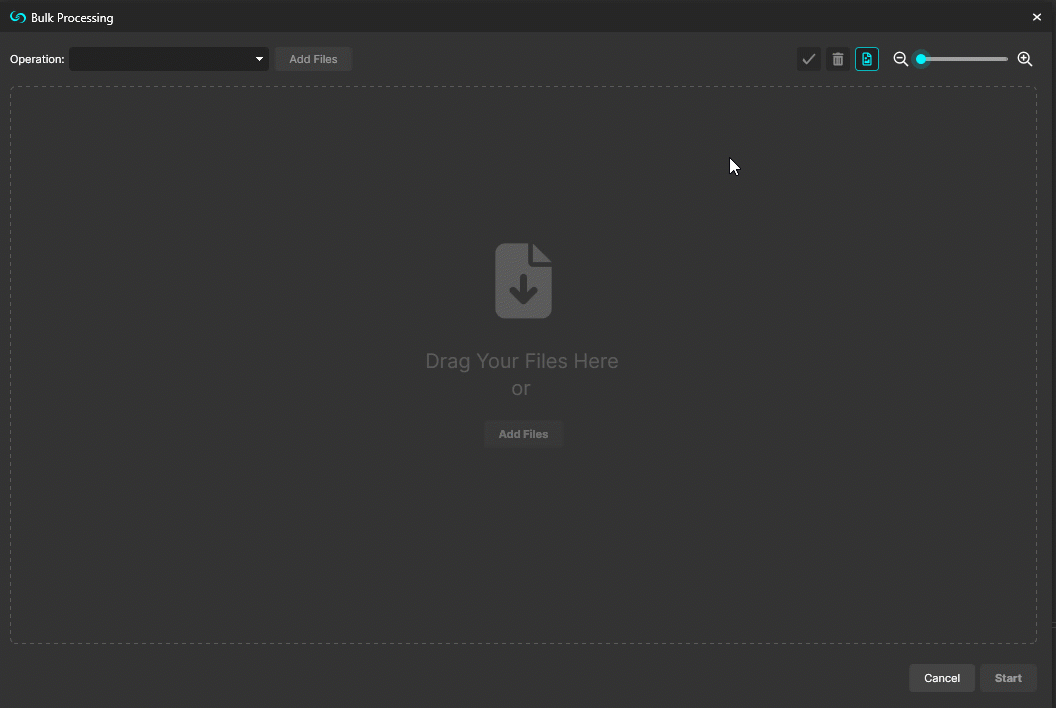 Click on the Operation dropdown and select "Redact Document" from the list.
Click "Add Files"; the file explorer will pop up. Select all the documents you wish to redact in bulk and click "Open." Your files should now be visible in the Bulk Processing window.
Click on "Redact Document Settings" and a pop-up will appear.
Select the "Perform AI Image Analysis" checkbox.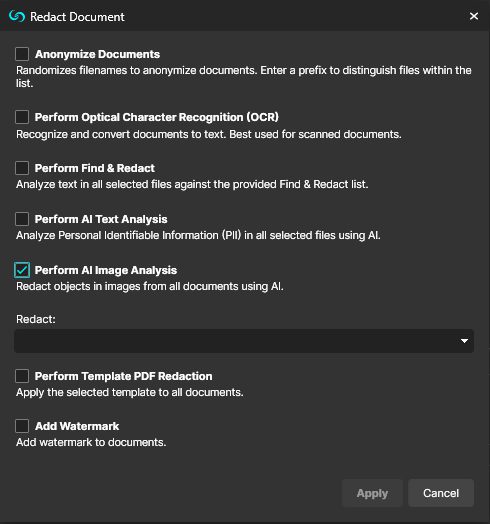 Select one or more objects from the "Redact" dropdown. You can select to redact 1 or all 18 objects within your documents.
Click "Apply."
Select the "When checked, the system will apply the results for each individual file" checkbox to export files once they are bulk processed automatically. Leave it unchecked if you wish to review your redactions before exporting.
Then click "Start" in the bottom right corner of the pop-up to begin the Bulk Process.
Now, the CaseGuard Scheduled Tasks window will appear. Each document added to the Bulk Redaction window will be processed, and their progress will be displayed in the window.
Once the Files finish processing, you can locate them in the Project Files panel in the upper-right corner of the screen.