CaseGuard Studio automatically uploads your media to the Project Files panel. The Project Files panel is similar to a folder that can hold dozens, hundreds, or even thousands of video clips, audio clips, and still images. In CaseGuard Studio, your media appears as a file Icon. You can reorganize your icons by moving files within the Project Files Panel.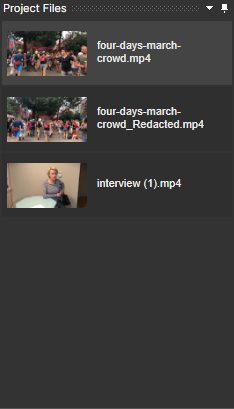 A Project is defined in the software as the collection of original evidentiary files you've uploaded, as well as the "child" files created by CaseGuard that you are placing redaction and enhancement work on. There can be multiple child files in any given project.
Project Files Tools
Add Files: click to add files to the project.
Delete Files: click to delete files from the project.
Refresh Project: click to refresh the project files. Refreshing periodically ensures you see the most up-to-date version of whatever files are in your project.
Open Project Folder: click to open a project folder.
Compare Files: click to compare files side by side by clicking the scale icon.