To access CaseGuard Studio's Transcription Settings, select Tools >Settings. The Settings popup contains 7 tabs, "Transcription" tab is one of them: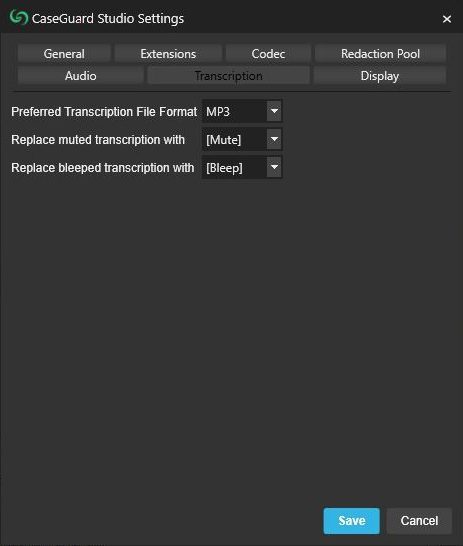 Within Transcription Settings, you can:
Set your preferred Transcription File Format to MP3 or WAV file.
Replace muted transcriptions.
Replace bleeped transcriptions.
Replacing muted or bleeped transcriptions
Replace your muted transcription with one of the following text indicators:

[Bleep]
[Redacted]
[*******]
[Remove]
For example, say your unmuted text read:
Sarah lives at 123 Briony Lane in El Paso.
If you wanted Sarah's address to say [Redacted] in the transcript, you would Select > Redacted in the dropdown.
The resulting text would read:
Sarah lives at [Redacted] in El Paso.
You can also replace your bleeped transcription with one of the following text indicators:
[Bleep]
[Redacted]
[*******]
[Remove]