To access CaseGuard Studio's General Settings, select Tools –>Settings. The CaseGuard Studio Settings popup contains 9 tabs, one of which is the "General" tab:
When navigating the General Settings within CaseGuard Studio, there are a number of settings that you can configure to meet the particular needs of you or your agency.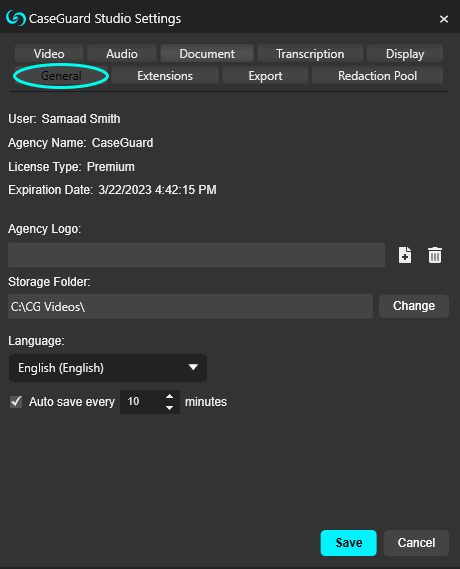 The General Settings will provide you with baseline information concerning the following elements within the software:

The status of your license: the writing found in the top section of this pop-up window will acknowledge the license that is currently logged in, as well as provide you with the date and time of expiration for said license, in addition to the name of the agency that has purchased the license in question.
In the General Settings tab, you can also change your:
Agency Logo
Storage Folder
Language
Autosave preferences
Agency Logo
Click the Add Button for the Agency Logo prompt
This will then open the file explorer on your machine. However, if your folders have not been defined in CaseGuard Studio, you may have to manually search for the appropriate folder and file to select a new logo.
Select the logo you want to upload. The file's folder path will be recorded in the Agency Logo prompt within the settings tab.
Click Save.
Your logo will then be saved, and ultimately applied to all reports, documents, and other necessary prompts when using CaseGuard Studio.
Storage Folder
This is where all of your project folders and their respective files will reside. Select the Change Button to decide where this directory resides on your machine.
Language
Caseguard supports 28 languages and localizations. Select your preferred language in the dropdown menu and then click Save to finalize the changes.
Autosave every _ minutes
This option gives users the ability to dictate their auto-save preferences when using the software, in accordance with a specific number of minutes.