After purchasing a license from CaseGuard Studio, any software updates that our team works on will be installed on your machine automatically, free of charge! Likewise, as new features become available, they will be rolled out to all active clients immediately. However, you can still check for updates manually by clicking on the Help button within the Shortcuts Bar in the software, and then click the Check for Updates option from the drop-down menu.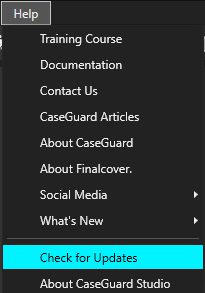 Who gets new features?
All new features are included for free as part of your CaseGuard Studio license.
How do I get new features?
You will get them automatically as they are rolled out to all of our active clients.
When will new features arrive in my version of CaseGuard Studio?
Our team works tirelessly every day to improve the features and offerings of our software. While there is no set update schedule as of now, any updates that our team implements will be automatically installed after your purchase of CaseGuard studio.
How can I learn more about CaseGuard updates?
We will periodically post software updates on our website CaseGuard.com. You can also follow our Twitter page @CaseGuards, our Linkedin page CaseGuard, and our Facebook page for more information concerning new features and updates. Alternatively, you can also send an email to our customer support team if you have any specific questions about features you'd like to see implemented into the software.