The Redaction Pool can be configured from Tools >Settings in CaseGuard Studio.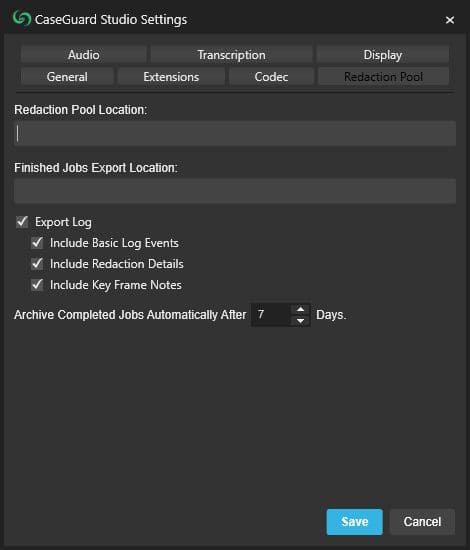 Enter the folder path where you would like files to be pulled from in Redaction Pool Location.
Enter the folder path where you would like files to be placed in Finished Jobs Export Location.

Tip: to save time, you can copy folder paths using the Windows Explorer screen. Once you find the correct folder paths, paste them into the Redaction Pool Location and Finished Jobs Export Location prompts.

You'll see checkboxes that involve the Export Log for the files and the folder where completed work resides for review and dissemination. The check boxes detail what is part of the Export Log:

Basic Log Events
Redaction Details
Key Frame Notes.
These are elements for the audit trail. To store these activity details in the same location as your child files (i.e, the Finished Jobs Export Location), Select the Boxes.
Note: we recommend doing this. The idea here is that rather than placing these details only with audit trail reports (which will be placed elsewhere in your system) the details concerning activities taken on the child file will now export to the same location where the completed project will be directed.
The last option in this popup allows you to set how long completed jobs will remain in the Finished Jobs Export Location. This is a mandatory field.
To set the time, simply Enter the amount of days you would like to pass under Archive Completed Jobs Automatically After ( ) Days.
Click Save.

The reason this is a mandatory field is so that you can eliminate the need for additional storage, as completed jobs, using the Redaction Pool, should be considered for immediate review. That review usually includes the completed files being relocated for longer-term storage, public dissemination, etc. If for some reason the files remain in the location, they are likely not needed.