What is transcription?
To get a transcript of your audio to enable redaction, our system uses a deep learning process called automatic speech recognition to convert audio to text quickly.
Get started

The Add Automatic Transcription popup will appear, showing transcription settings including Spoken Language, Speakers Identification, and Number of Speakers.
Enter information about your audio file.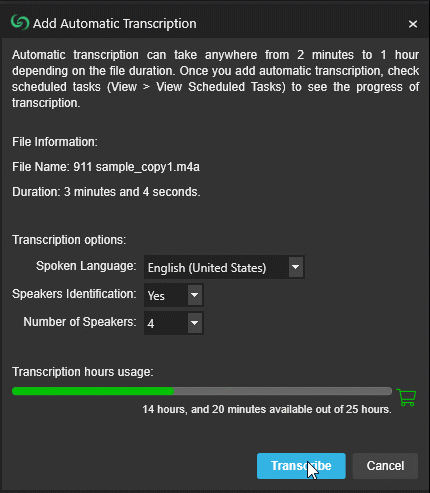 As your transcript transcribes, the Transcription Panel will update to show you the progress of the transcription.
Once the transcription is complete,  a transcript will appear in the Transcription Panel.
Tip: Depending on the length of your file, Automatic Transcription can take anywhere from 2 minutes to 1 hour to finish. Once you add automatic transcription, check scheduled tasks (View > View Scheduled tasks) to see the progress of the transcription.

You can play the media file and listen to the audio as you read the transcript.

Optionally, search for words via the Transcription Panel search bar located at the top of the transcript.
Optionally, click on any transcribed word or phrase to jump to that portion of the audio.
Optionally, consider burning captions of the transcript to your file.

If your transcript has errors, highlight the part of the transcript you would like to edit. Right-click. A dropdown menu will appear. Select Edit.
The Edit Sentence popup will appear. Within this popup, you can enter your correction. After you are satisfied, click the Replace button.

Tip: you can also use the Edit tool to find and replace all instances of a word or phrase in your transcript.