Object Tracking Workflow
From the Player Controls click on the time or frame value to forward the file to the point-in-time where you want to start redacting.
In the lefthand Toolbar, click Object Tracking.
Adjust the shape and effects settings of the Object Tracking Properties Panel. By default, the rectangle shape and blur effect are selected.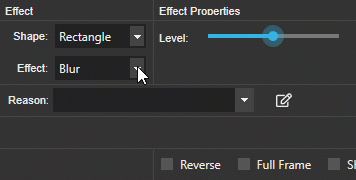 Drag to select an object or area you want to redact.
In the timeline, select Play to see the effect move with your object.

You can pause and increase or decrease the size of the shape in automatic detection in a frame-by-frame mode. To do this, pause the video, and use your keyboard's right and left arrows to move through each frame. As you click through, move the shape with your mouse to your desired position.