Overview of the Workspace
CaseGuard uses a docked, panel-based interface. The entire interface is called a Workspace. The Workspace adapts to accommodate different working styles and to the tasks, you need to perform. You will do most of your redacting work in the panels of the workspace. For example, we recommend pinning the Object Detection panel to your workspace whenever you are editing video content.
To learn more about the various panels that can be used within CaseGuard Studio, see CaseGuard Workspace. 
The main areas of CaseGuard's Workspace are:
A: Menu Bar | B: Shortcuts Bar | C: Project Files | D: Task List | E: Additional Panels | F: Tool Properties | G: Status Bar | H: Toolbar | I: Workspace Viewer
Default Views
CaseGuard has pre-built Workspaces that serve to accommodate different working styles and file types, making it easier for you to accomplish the different tasks you need to perform.
These pre-built workspaces are a great starting point so you can begin working immediately.
Video – Manual Redaction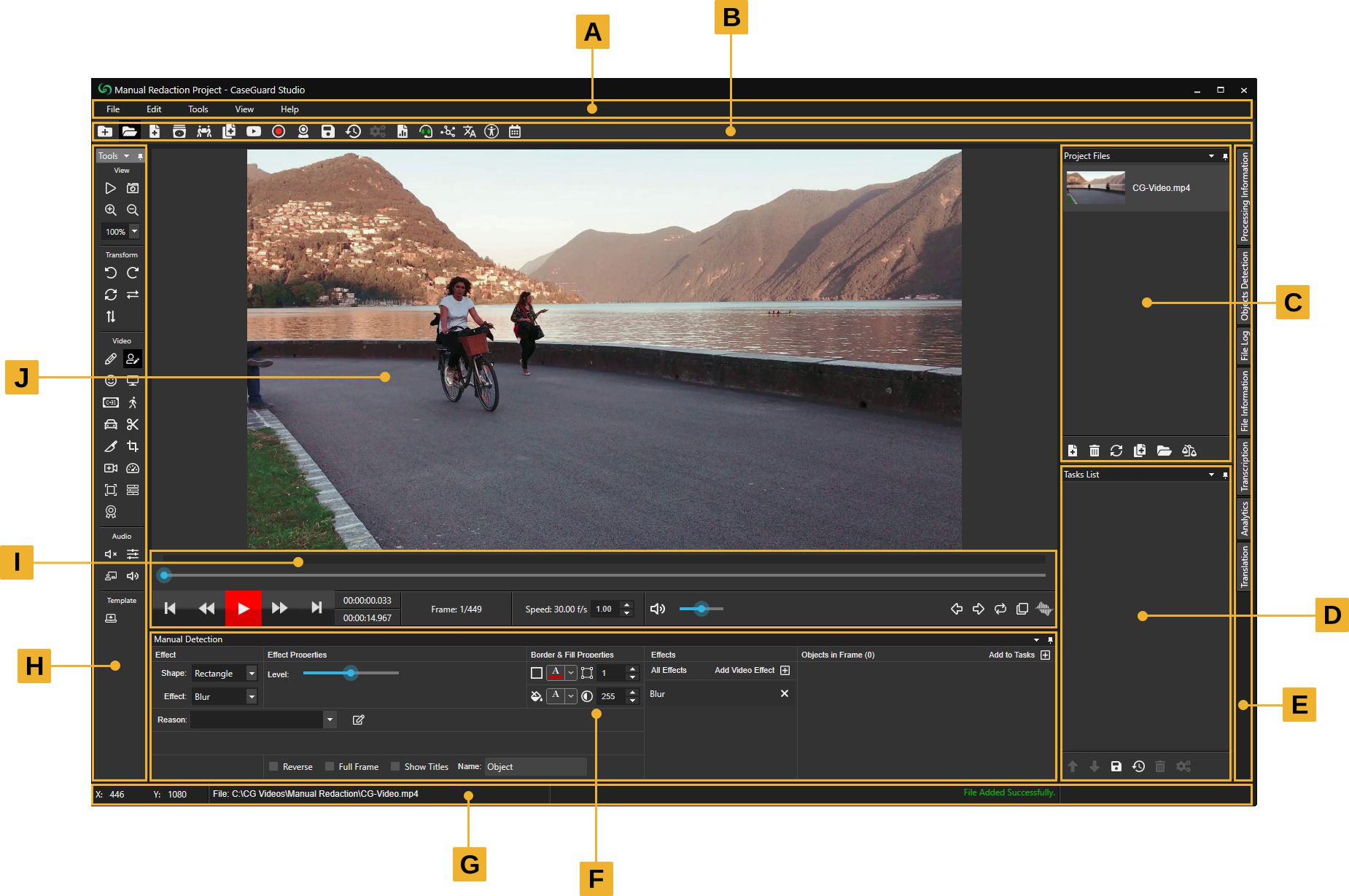 A: Menu Bar | B: Shortcuts Bar | C: Project Files | D: Task List | E: Additional Panels | F: Tool Properties | G: Status Bar | H: Toolbar | I: Player Timeline  | J: Workspace Viewer

Video – Search by Image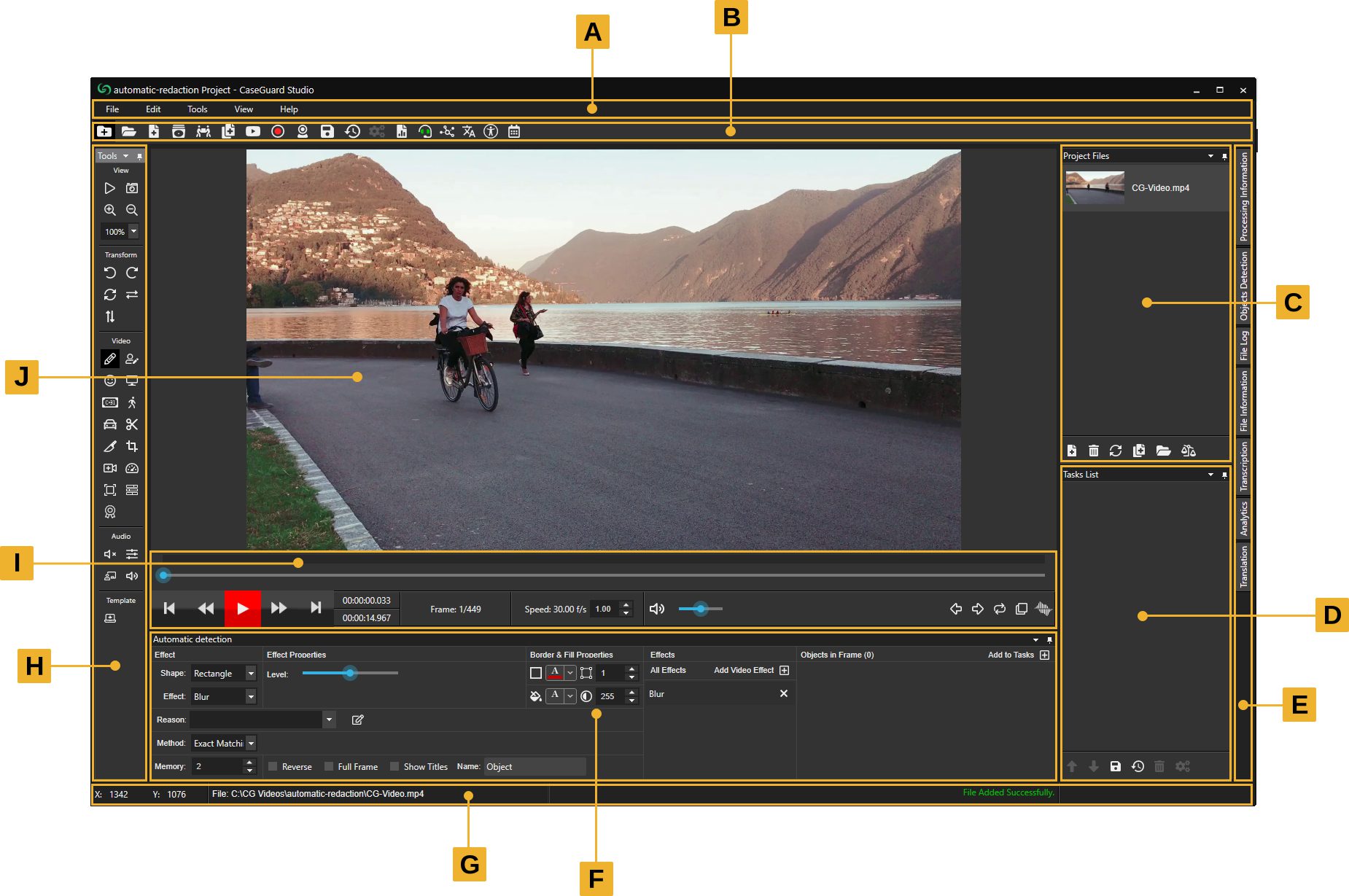 A: Menu Bar | B: Shortcuts Bar | C: Project Files | D: Task List | E: Additional Panels | F: Tool Properties | G: Status Bar | H: Toolbar | I: Player Timeline  | J: Workspace Viewer
Video – Automatic Redaction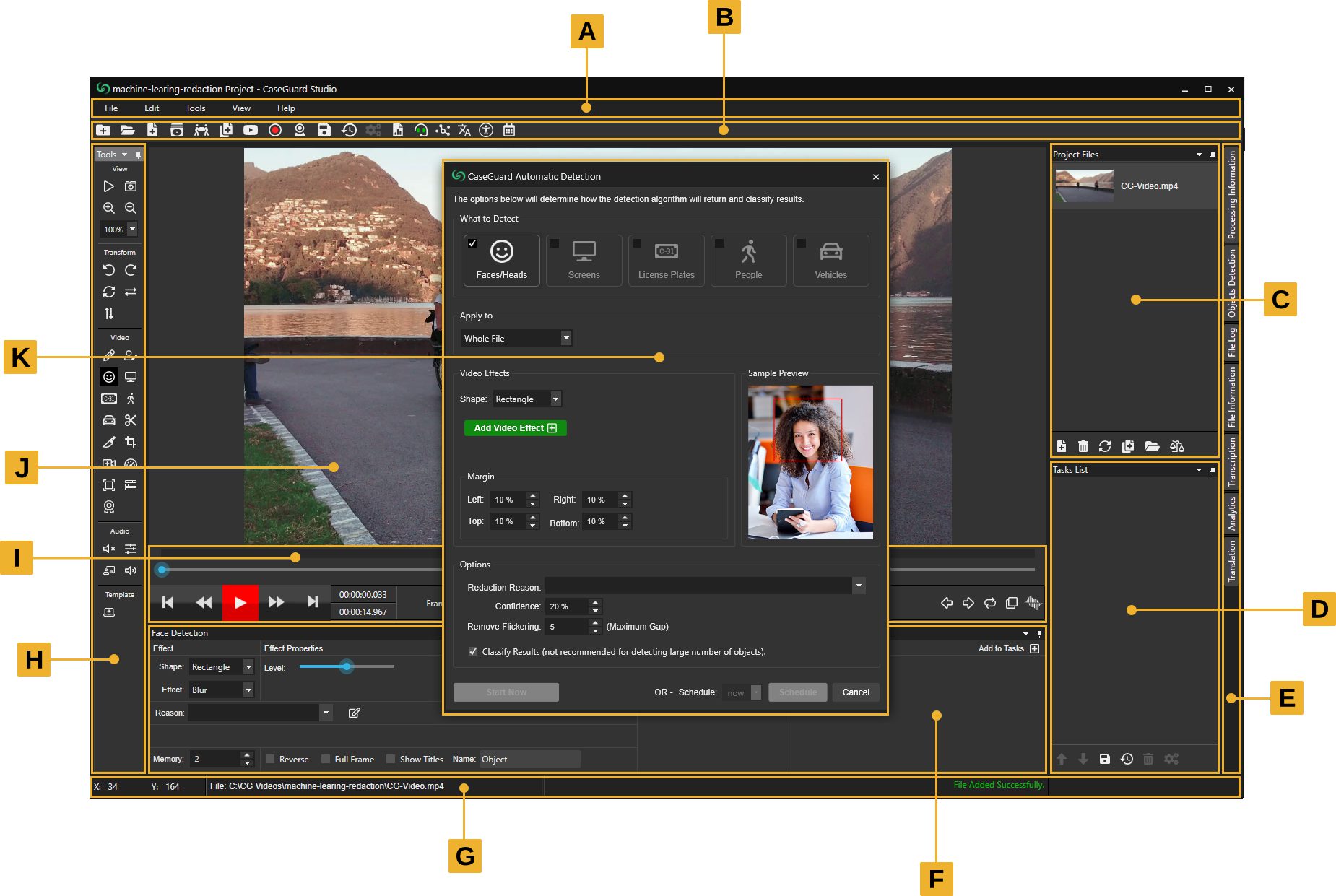 A: Menu Bar | B: Shortcuts Menu | C: Project Files | D: Task List | E: Additional Panels | F: Tool Properties | G: Status Bar | H: Toolbar | I: Player Timeline | J: Workspace Viewer | K: Automatic Detection Popup

Audio Redaction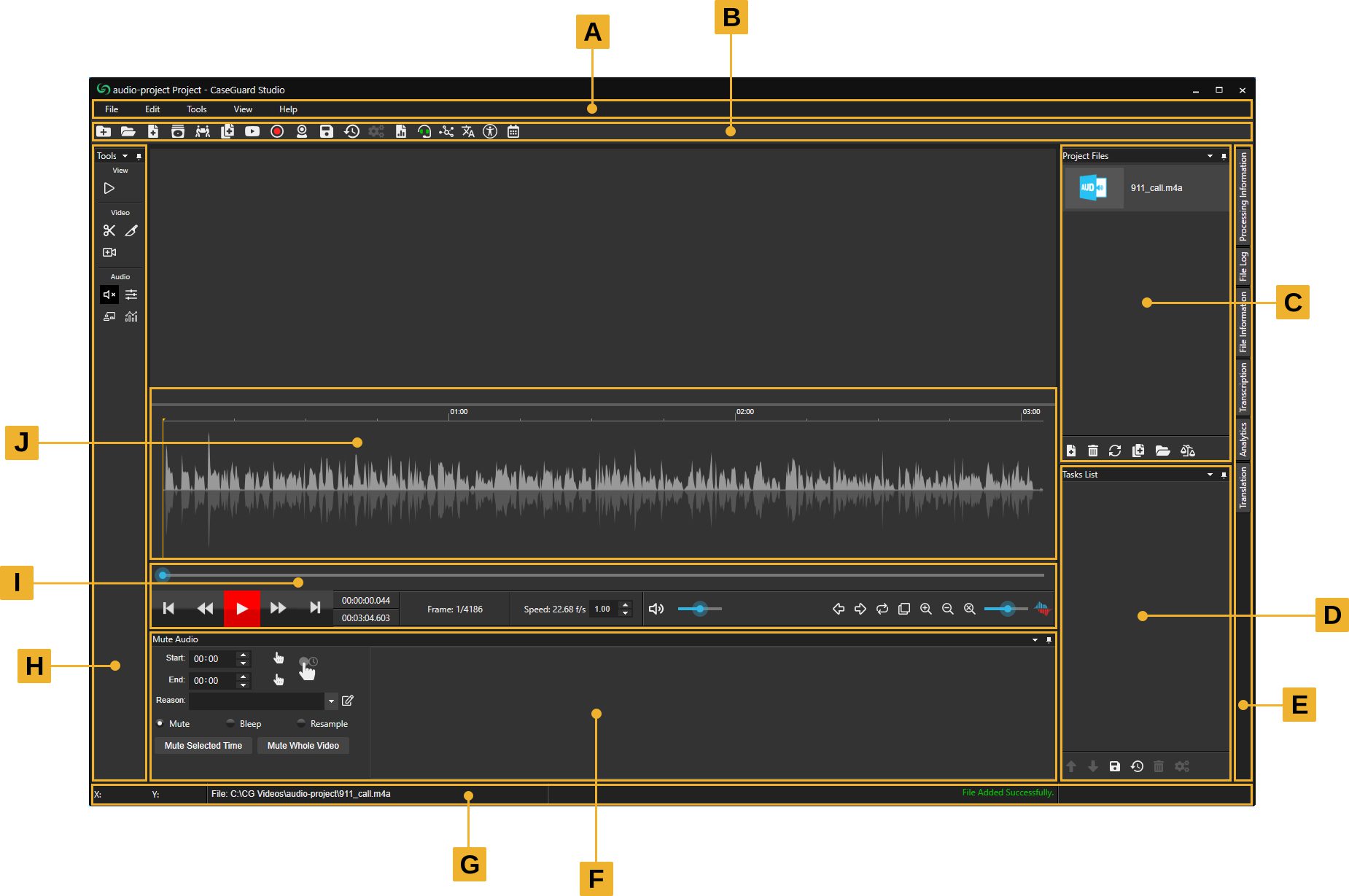 A: Menu Bar | B: Shortcuts Bar | C: Project Files | D: Task List | E: Additional Panels | F: Tool Properties | G: Status Bar | H: Toolbar | I: Player Timeline | J: Workspace Viewer
Image Redaction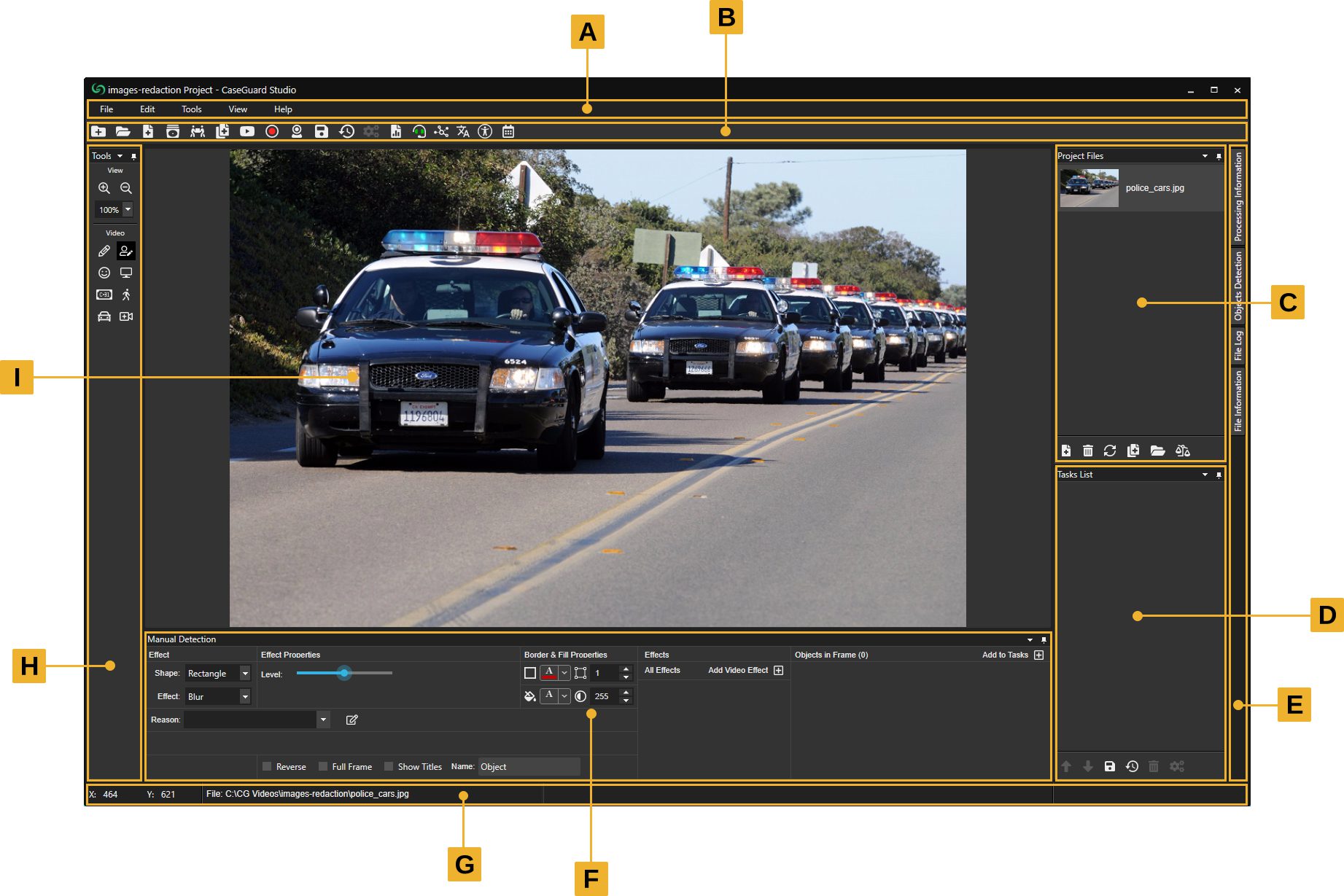 A: Menu Bar | B: Shortcuts Bar | C: Project Files | D: Task List | E: Additional Panels | F: Tool Properties | G: Status Bar | H: Toolbar | I: Workspace Viewer
Album Redaction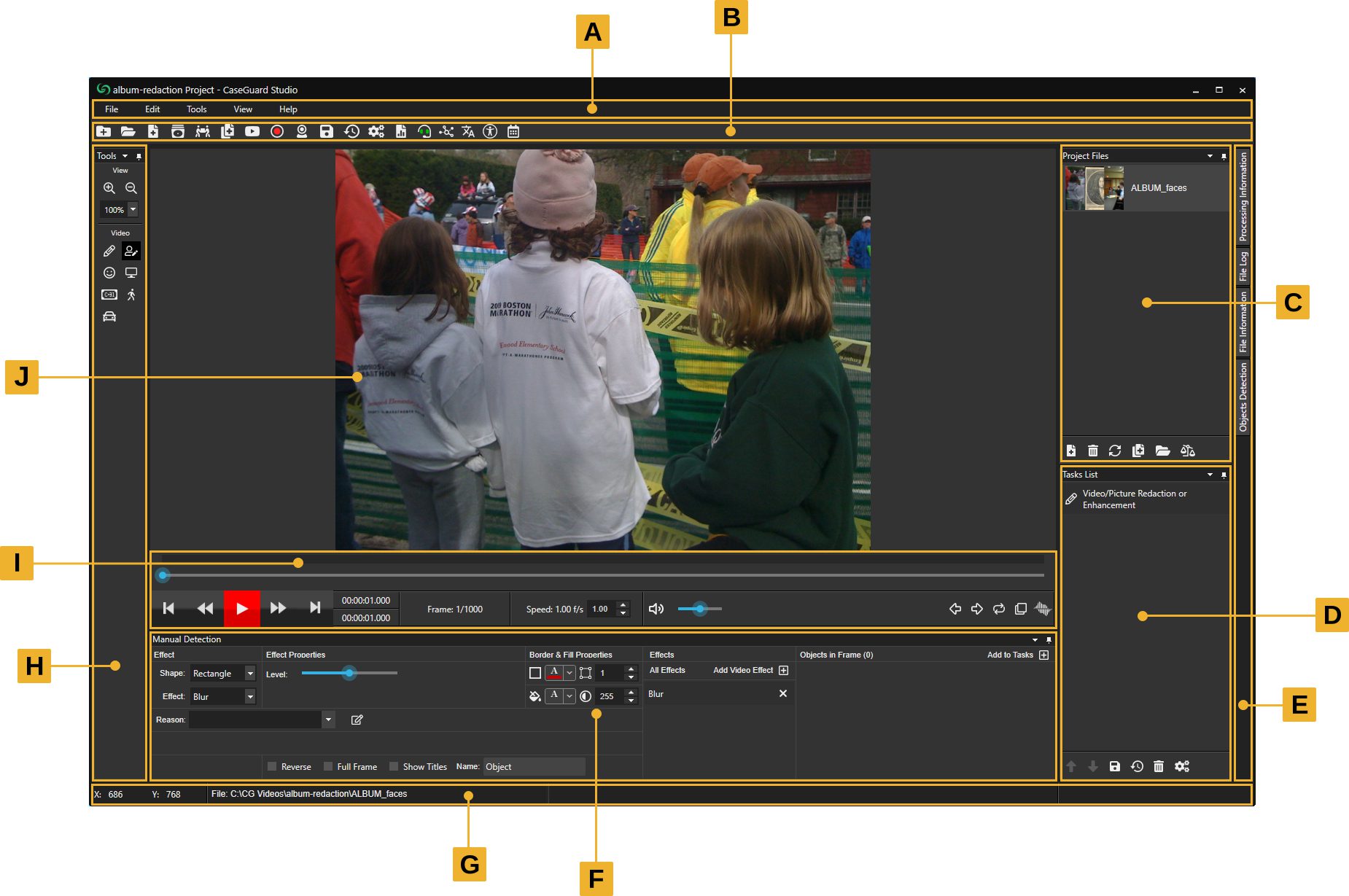 A: Menu Bar | B: Shortcuts Bar | C: Project Files | D: Task List | E: Additional Panels | F: Tool Properties | G: Status Bar | H: Toolbar | I: Workspace Viewer | J: Workspace Viewer