Why Reports are Important When Performing Redaction
Reports for Duty
If you have ever worked on redactions, you can easily understand the necessity of obtaining redaction software with flexible and innate features. Redaction is required to preserve the privacy and confidentiality of sensitive information. It is a popular demand in many of our government agencies, law enforcement, schools, hospitals, and more, to ensure that whoever uses their services can feel secure about their data.
Obvious Needs For Redactions
Listing the requested features of redaction software is easy. This is because most of us can infer which of our documents or data being revealed would put us at some risk of exposing our identity. This means even though we may not be able to list all the laws and regulations that apply, we know that we don't want our children's faces in school videos when it is broadcasted in the news. We may not know what a hacker does to steal identity, but we still whisper when providing our social security number or address over the phone.
That is because these are obvious identifiers; we know that this information can easily be used by someone with ill intent and used against us. A reliable redaction software will make it easy to redact faces and personal identifying information (PII) and will even be able to disguise voices.
When it comes to redacting documents, it makes sense for redaction software to have features such as pattern redaction. Many forms we fill out and the paperwork we provide will have PII that follow certain patterns. For example, emails will always include the @ sign. Phone numbers and social security numbers have distinctive differences, and even where we write and sign our names on forms is pretty predictable.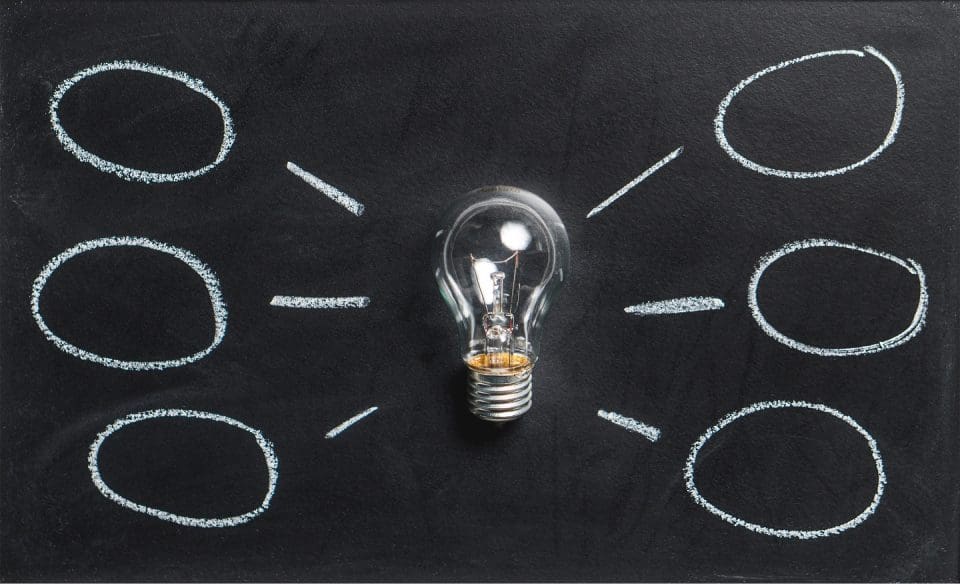 It also wouldn't be unheard of to have multiple files to redact; having the ability to do bulk redaction is the obvious solution. There are also some features we may not innately think of when it comes to redaction. Still, we would be very happy to use color coding redactions, redacting thousands of images in one click, having the ability to OCR your documents, and easily redacting PST files. The automatically generated reports like an exemption log would be one of the most important features for so many agencies that struggle to create reports manually to explain why, where, and how they applied redactions combined with the legal reasons.
The Importance of Automatic Reports
One feature relating to redactions that may be overlooked on redaction software is if it has the ability to generate accurate reports based on your file type, redaction reasons, and analytics. When working on redactions, there are different reasons you are obscuring or removing people or information. Even though everyone is not expected to know, as someone working on redaction, you may be expected to present your reasons for applying redactions to your files. One reason is that although redaction serves its purpose of safeguarding sensitive information, there have been instances where it was too extensive and shielded important information from the public, compromising its integrity.
One example is the case of Michael Flynn, who is the former national security advisor during Trump's presidency. Michael Flynn pleaded guilty to lying to the FBI about his conversations with a Russian diplomat, and as part of legal proceedings, many documents were investigated. It was argued that the redactions applied to the documents were for national security purposes. However, once released to the public, it was exposed that the redactions were actually working in hiding substantial evidence.
The redacted portion of the documents is what revealed Michael Flynn's actions regarding the investigation of Russian interference during the 2016 election to the public. This sort of action raises questions about transparency from government officials, and the lack of properly identifying and reporting redaction reasons can result in the same outcome. This is what makes one of the most overlooked features of generating reports so important.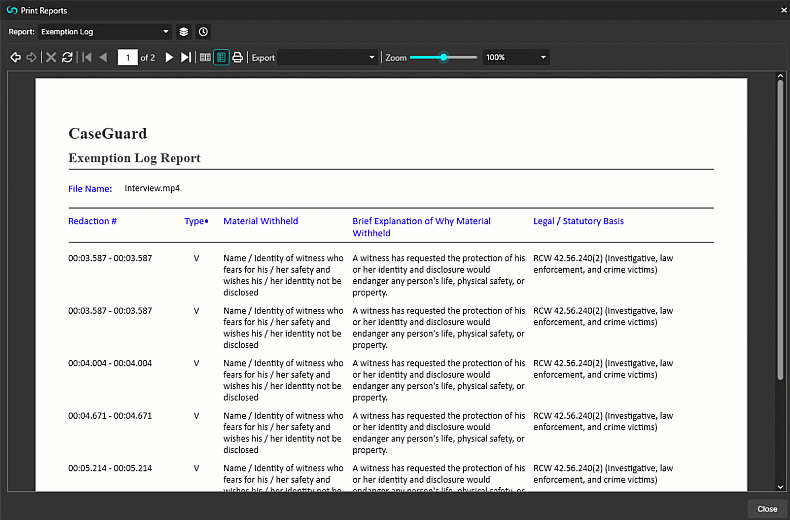 A perfect example of a redaction software that understands this is CaseGuard. CaseGuard Studio is an all-in-one redaction software designed to redact video, audio, images, and pdf and is compatible with many file formats. One of the admired features of CaseGuard is its "Print Report" feature, which allows users to generate a detailed report of their redactions which can be used in legal proceedings, audits, or other purposes.
The "Print Reports" window in CaseGuard features the Exemption Log option, which will summarize and condense the reasons you have redacted the faces, texts, objects, or audio in your files. This report also includes information about the metadata associated with any files, including device information, file size, and file language.
These details can come in handy during investigations and make sharing your redaction history much easier. To take it a step further, this list generated by CaseGuard can easily be exported to various file types, allowing you to share what is necessary with whoever may need them. To have the ability to carry out this task quickly means not having to worry about researching the legal and statutory basis as to why you are redacting every time you redact.
More Reports and Their Use Cases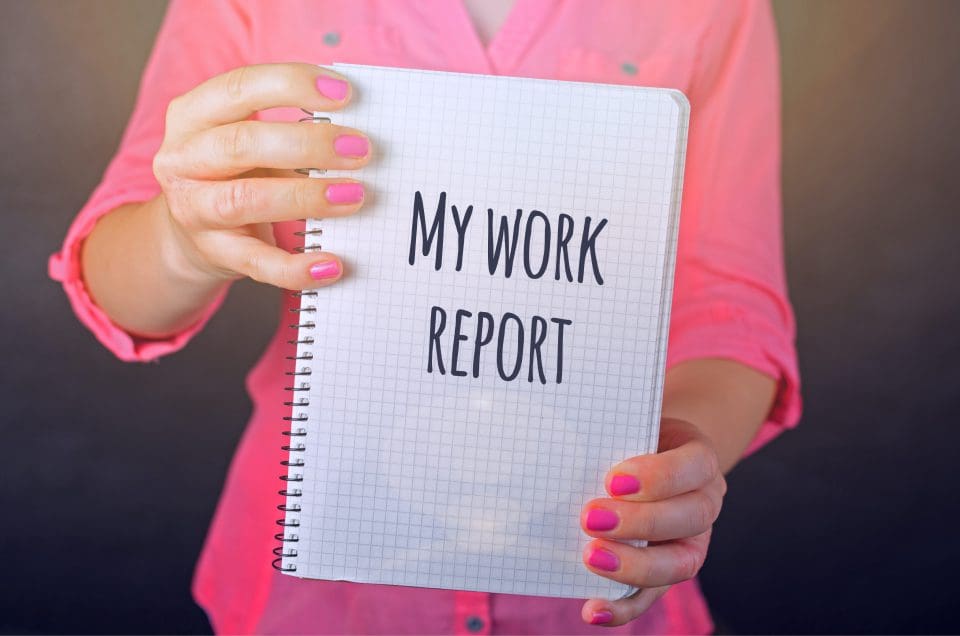 Other logs can be used to gather more information for you, such as a standard summary report about your redaction project. This can include the name of the project you've created, the different tasks that have been performed on the files within that project, and detailed information about the file added to the software. Having something like a "My Activities" report can also allow you to separate the redaction list by credentials. It includes the scheduled tasks, when it was completed, effects, and visuals used.
Since redaction is used for many types of projects and files, working on audio or videos with audio is more than likely. It would be convenient to have a quick glimpse at something to inform you of what exactly is being discussed in this content without having to sit and listen for the keywords yourself. CaseGuard already thought of this for you. With a report like "Word Cloud", you can quickly note the main concerns and topics in the video and audio by looking at this cleverly displayed bunch of words. The bigger the word, the more it has been mentioned, which lets you know its significance.
Better yet, if you have an audio file that is in a language you don't understand, a well-developed redaction software would allow you to translate it to English for your understanding. To take it a step further, it would be more than helpful to take any audio file and translate the transcription into a different language to share with others confidently. Take a look below for a sneak peak of CaseGuard's "Word Cloud" and "Translation" reports.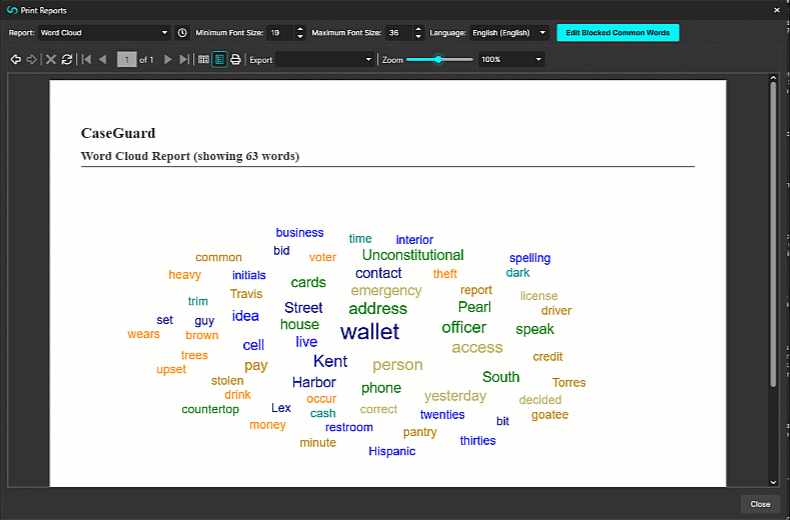 Having the ability to work cooperatively with others is a feature most would request regarding their redaction software. Being able to work together, having the system track who is working on what project, seeing the status of the project, and having a designated location for the completed project make it convenient for team collaboration. CaseGuard demonstrates this with its collaborative redaction feature, the Watcher. What makes it even better is having a summary that can reflect what has been completed, the duration and information about the redacted files, and more listed all in one report.
AI's Role in Print Reports
Advanced redactions software, of course, works with AI capabilities to deliver faster and more efficient redactions. Using AI is important in assisting in detecting and redacting Personally Identifiable Information (PII). With a few clicks, you can use features such as PDF analysis to have names, emails, numbers, and more PII identified and redacted from your documents. It also means it lists all the detected PII in the background. CaseGaurd allows you to carry out this list as a report to have the PII detected and identified all in one location.
Having the list of PIIs that have been redacted can allow you to view better what PII you would like to redact or unredacted based on your needs. The use of AI identifying PII means it has the capability to transcript audio as well. With this tool, CaseGuard can create a transcription report to have easy access to the content of the audio files. It is available for you with or without the redactions applied.
Overall, there are many features we can hope to find in our redaction software. The most obvious tools can always be improved with the help of redactors, and working to predict your needs is what allows a redaction software to become creative in its features. The "Print Report" feature is a great tool for CaseGuard users that helps document redaction work and ensure it is thorough. These reports make it easy to provide to regulatory proceedings and for any legal matters, taking the work out of your hands.