What is a Codec?
Codecs reduce large videos to more manageable sizes. This is called compression. Without codecs, it would be very hard to edit videos or upload them to the internet. Codecs work by using algorithms to compress data.
To start working with Codec Settings, navigate to Select Tools –>Settings. 
Select the Export Tab.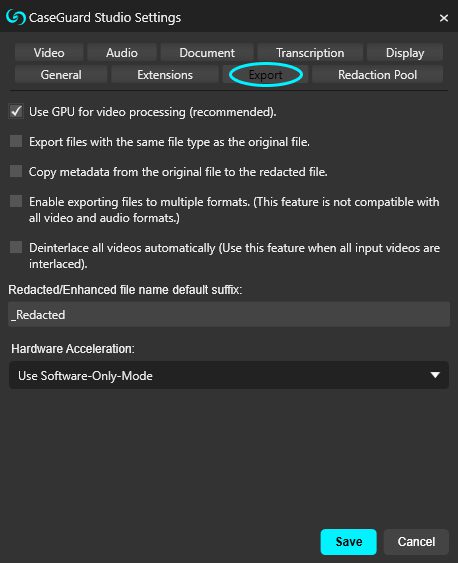 The Codec screen gives you the ability to manipulate the settings surrounding the codec of each audio and video file you're working on.
GPU for Video Processing: We recommend you keep this checked because it instructs CaseGuard to use all of your machine's resources to process video files. This means your videos will render faster.
Convert Video Files to MP4 Automatically: We recommend you keep this checked. It ensures that all video files are converted to one, standard, open-source file format.  Generally speaking, MP4 files playback at a higher quality.
Deinterlace All Videos Automatically: If you work with interlaced videos, select this box to convert your interlaced video into a progressive video automatically.
Try Multiple Conversion Methods: Click to enable multiple conversion methods.
Export/Maintain the Same File Type as the Original File: Check this option to export your file as the same type of file as your original file.
Enable Exporting Files to Multiple Formats:  Check this option if you would like to export your redacted file in more than one format after processing. When you check this, an additional prompt will appear during processing asking you to select the file formats you want to export your file as (e.g, .mp4, .avi). 
Re-encode Cut Video: If you do a lot of video cutting, you may want to consider checking this box.  This is so that the video that has been cut (via frame removal, etc.), will maintain the exact time frame from when your cuts were made. However, bear in mind that checking this box can create a softening, or reduction in video quality.
Redacted/ Enhances File Name Default Suffix: You can enter a default suffix to your redacted or enhanced files By default, we've added: "_Redacted". This means that if you have a file named "OurVideo", when you redact it, it will be called "OurVideo_Redacted"
You can change this to whatever you like by typing your preferred suffix into the prompt.
Hardware Acceleration: select your preferred Hardware Acceleration mode.