Quick Redact: working with still objects
Sometimes, you may want to redact an object that isn't going to move in the video. To do this quickly, you can use the Copy Effects tool to instantly apply a redaction to an object without having to playback your video.
Add a redaction over the object you want to redact.
Right-click on the redaction and select Copy Effects.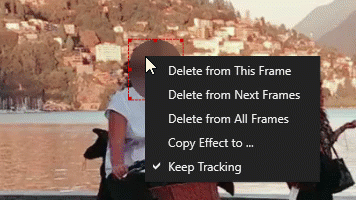 The Copy Effects popup will appear. You will be able to set whether your effects are applied to the object for the whole video or for just a portion of it.

The Selected Range "Start" and "End" fields are set to a Frame Number by default. You can change that to "Time" from the "Metric" field at the bottom of the popup.

Enter the range you want to apply your effects to under "Apply To".
Under "Video Effects" and the "Audio Effects", you'll see the redaction effect (in this example, blur) elected initially that will be copied to the range you selected. If you want to maintain the same look, don't adjust the Audio or Video Effect fields. However, if you want to add an additional effect, add and adjust the Video Effects and Audio Effects fields to reflect your desired changes.
Click OK to apply the effects to your file.