What's the Best Redaction Software for Your Organization?
Not everyone understands the tedious work that goes into manually redacting a long video, monotonous document, and intense audio. Double-checking your work can sometimes take longer than the initial attempt at redacting; just as fun but twice as taxing. I'm here to tell you, you are not alone! Thousands of industries in the United States, and worldwide are using advanced redaction software to lighten the stress of their redaction workload. Some do a great job of finding a redaction company that meets their redaction needs, provides great customer support, and is attentive to their request down to the last detail, others however, aren't so lucky.
Know Your Needs
When searching for the proper redaction software to purchase, there are a lot of factors that can minimize your options and impact your final decision. Some users may need to redact videos with audio but not documents, some, just have documents and a lot of it, while others may need to redact everything you can think of. This includes video redaction, audio redaction, document redaction, image redaction, and even email redaction. Figuring out your redaction needs is the first step to complete before beginning your research phase.
You should also know what feature options there are out there for redaction; know what tools will best assist you in your work and ask if it is available. Other decisions should be made based on the time you plan to acquire a redaction software, the budget you or your organization have for purchase, and lastly, if you need the software itself or just the redaction service. Find out if the redaction company has the option of providing the redaction service for you without you having to purchase the software yourself. Imagine paying someone else to do it, what a treat!
Following the Research Path
Starting your research on finding a good redaction software will almost always lead you to a website. It's best to make sure it's clear and easy to navigate. Are you easily able to request a demo or quote for your needs? It's also important that you're able to reach support easily and hear back from them in a timely manner.
When searching for a specific redaction company, are you able to see examples of their work? When work is done with pride and is trusted by its users, it will be easy to find examples of the product. Being able to find their assets allows you to have a preview of what you should expect for yourself, which will reduce any doubts you might have had. You should also consider checking out their social media presence. LinkedIn, YouTube, Facebook, Instagram, and Twitter are good platforms to start with. This can give you an idea of the people you may be potentially working with. A company's social media will divulge what they value, and its culture, and will give you a glance at its future endeavors.
The "Q" in Q&A: Before Your Purchase
Once all the decision-making is complete and you have a short list of redaction software companies to compare, it's best to begin your research with a couple of requirements and questions in mind. We'll help you ask the proper redaction-related questions so you rest assured that you will obtain the redaction software that best suits your needs.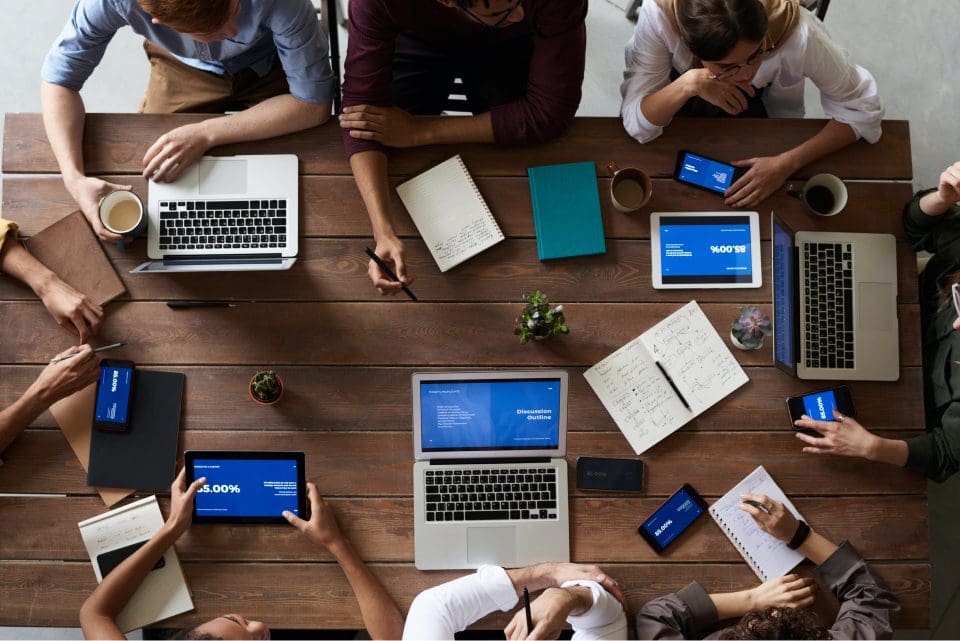 What Do They Offer
The first question to ask should be "What can I redact with your software?". You don't want to move further with your redaction research with a company before knowing if it can redact what you need it to. Some will be able to redact more than what you need and may offer a plan that exclusively attends to what you are looking for. Others will only provide redaction for one type of asset. Once that's figured out, we can begin asking more specific questions.
If you're overwhelmed with all the manual redacting and want to automate the work to cut down your time spent on redacting by more than 80%, find out if they have an AI Automatic redaction option. If they do, you should ask "How accurate is the AI Automatic redaction tool?". The software's AI Automatic option should be able to, for example with videos, redact all faces and heads. This means even if every frame is crowded and involves fast and unpredictable movements, all faces should be redacted. It should easily be able to redact a face that is halfway in the frame, has a mask or scarf over it, and appears or reappears quickly because it is blocked by something for a short moment.
But of course, no tool is 100% accurate, and because of this fact, you need to ask "Can I manually edit the redactions that the AI might have missed?". Being able to manually resolve rare occasions the AI does not redact something should be an option for you. You want to be able to go in with a manual tool and easily draw and redact. While on the topic of manual intervention, it would benefit you to ask "Am I able to remove a redaction from a specific object or person after the AI has run?". The AI redaction shouldn't be an all or nothing, once the AI has done its job of redacting all faces, you should be able to un-redact a face or object you would like to keep visible.
A common question that comes up while on the topic of AI-based redaction is, "Can the AI redact every face EXCEPT the one I need visible?". This would be very convenient for a majority of redaction customers, but it brings up an important topic, facial detection vs facial recognition.
In order to redact everyone but a specific person, the redaction software will need to not only detect faces but also recognize a specific one to leave it unredacted. Facial recognition is used typically for security and access control, health and safety, and some avenues in law enforcement, it's not necessarily a need for the redaction process. A good AI automatic face redaction tool will be able to sort the same object to have the same label based on the characteristics but not recognition. This way, users can choose what to un-redact at once based on the sorted groupings.
Software Environment and What it Means for Your Work
Your next question can be about the environment in which the software lives, "What environment is your redaction tool based on?". Redaction software can be cloud-based or local, each offering you different pros and cons. The obvious difference is that one involves uploading your files to the cloud to redact while the other is added strictly to your desktop and local machine.
One pro of hosting via the cloud is the ability to access your file from anywhere. You also don't need to take the time to upgrade your GPU. On the other hand, this also means you have to pay for hosting costs since it is not on your local machine and your data has a higher risk of breach of privacy. If you're willing to upload your sensitive data onto someone else's cloud, this will be a good option for you.
A locally installed redaction software means no one will have access to your sensitive files but you. There is no risk of a breach of privacy, putting you in control of who can see these files. Locally installed also means reliability because even with no internet, you're able to use the tool and get your work done. This option will also allow you to redact videos of any length. Imagine having to upload and then download (after redaction) an 8 hours video to the cloud, it will take forever. But having your machine be the hub for all this work reveals a con, you have to have a strong GPU to handle the workload.
Graphics Card
If the environment is local, it is highly recommended that you have a compatible GPU. GPU stands for graphics processing unit, also known as your graphics card. It gives your machine the ability to use its memory to enhance any tasks relating to images and graphics. This means when looking to redact videos and images, it is important to have a strong graphics card to speed up the process, though it's not impossible to get the work done without one.
What might take a machine with a good graphics card about 10 minutes to do, can take the same machine an hour to complete without a proper graphics card. If the redaction software is local, it's important to ask "What recommendations do you have for a graphics card?".
Bulk Options
It's easy to conclude that if you're looking for redaction software, you have more than just one asset to redact, how practical would it be to have a feature to actually allow you to work in bulk redaction? If you have multiple videos that need faces redacted in all of them, it would be useful for you to ask, "Do you offer a way to get more than one file redacted at once?". Having this option means 10, 100, or even 1000 files can be automated to be redacted and you can simply make your edits and be done.
Unlimited Redactions
Bulking can speed up the work of redactions, but what if there is a cap on how many times or how many files you can redact? Not every redaction software gives you the opportunity to redact unlimited files. For example, some cloud-based redaction tools are appealing in price but can have limitations on how many hours of redactions are available to you for the year. If you are looking to purchase redaction software, it is likely you will have several hours' worth of videos, audio, and documents to redact. For that reason, it's best to ask "Does your software have a limit on how many files or duration I can redact?. Working on redactions and realizing you have run out of "redaction hours" for the year can mean making yet another purchase, if your budget allows it, to continue your work. You and your team should discuss if a redaction software with limitations will suit your needs or if it is best to find a redaction software that provides unlimited redactions.
Moving Forward
Now that you're moving forward with a redaction company, there are new obstacles to tackle. Besides providing dependable software, you want to work with a company that cares about your overall experience with them. You should see that there are different methods provided to you to get to know their software and see that they are working to constantly improve it.
"How Do You Do That?"
Redacting software should be intuitive but not everyone is comfortable using a new tool without some sort of introduction. There should be well-thought-out demos and training sessions available for users who may be interested in the product. To take it a step further, your comfort and usage of the application will be better assessed if a trial is an option for you. Being able to have access to the software and using it temporarily will give you a chance to see if it's a good fit for you before committing to it. Ask in advance if these types of resources are available.
Updates
Most users don't consider this but you should also be interested in the number of updates the software has and what kind of changes are made. When it comes to redaction, every industry has different needs. A tool best suited for hospitals and schools, may not suit law enforcement and small businesses.
Does the software work to add new features to be inclusive of your industry? Are they flexible and always working to improve the application? Once updates are made, do they have a convenient way of showing users what they are? You may not have these concerns until you have already started using the software but knowing this would make your transition from one version of the application to the other a lot smoother.
Need Support?
No matter the business, you will always remember the customer service that was provided to you. Customer service can be the determining factor for your business. Communication with the team should always be pleasant and timely; it's ok for you to have questions and they should be able to provide support based on your availability. You can tell when a team is putting in the effort to assist you, they will provide you with different approaches to your one problem, ask which method of communication best suits you, and will follow up with you once the task is complete. These are great qualities to look for when working with any business.
What They All Have In Common
All of the different redaction companies you will find have one thing in common; they want to help make your redacting experience easier. Each of them can offer something different and it's up to you to decide what suits your needs best. Having a better understanding of redacting, its capabilities, and its limitations will also help guide your questions to better cater to your needs. Ultimately, you have to do the groundwork of researching the redaction tool that will satisfy you and your team, and asking the right questions will ease the process.