How Do I Redact License Plates in a Video?
As video footage is being shared with the public via the internet more than ever before, it is important that consumers have the software options needed to protect the privacy of the people in these respective videos. Whether it be someone's face, license plate, phone screen, or other personal objects, people's privacy must be protected at all times when releasing a video to the public. Another common example of personal information that will undoubtedly be captured by dashcams and surveillance cameras is license plate numbers. As license plates can also be used to identify a person due to vehicle registration, these license plates must also be removed from any video that will be viewed for public consumption.
To this end, AI redaction software provides users with 3 means of redacting license plates from video footage. The first method is through manual redaction, in which users can draw shapes over license plates and subsequently remove them from videos. The second method is automatic detection, which will allow users to select from a variety of options in a drop-down menu and have all license plate information automatically redacted. The third method is through CaseGaurd's object tracking feature, which allows users to draw shapes similar to those drawn during manual redaction but instead have the software follow the license plate instead of having the user do it by hand. Which redaction method is used will depend on the scope and scale of the video files being redacted and the specific needs of the business or company seeking redaction.
Redact license plates manually
Manual redaction is the process of going through a document, image, or video and removing all personally identifiable information by hand. Through CaseGuard Studio's software, users will have the ability to draw redactions in 5 distinct shapes including circles, rectangles, ellipses, diamonds, and triangles. What's more, users will also be able to fill these shapes with a variety of both redaction and enhancement effects ranging from pixelate, sharpen, magnify, and blur. Once a user has selected an appropriate and effective respectively, they can then begin the process of manually redacting whatever video content they are working on editing.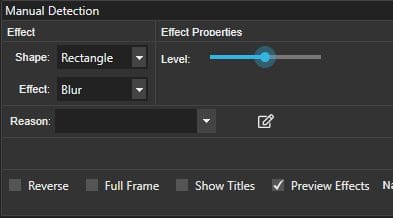 License plates redaction using object tracking
CaseGuard studio's object tracking feature is similar to manual redaction in the sense that it allows users to draw 5 distinct shapes and then fill these shapes with a multitude of effects. However, once users draw these shapes, CaseGuard's software will automatically follow whatever object is behind the shape without any further configuration. As cars are moving objects, this feature is particularly useful in the context of license redaction. While manually redacting all of these license plates is possible in theory, it is neither time nor cost-effective in the long run. Alternatively, the object tracking feature can be used to complete the same task in a fraction of the time.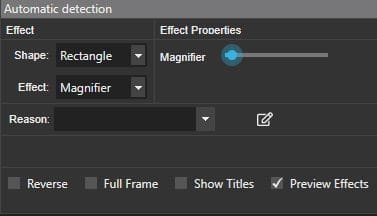 License plates redaction automatically using AI
While manual redaction and object tracking are two features within CaseGuard Studio that can be used to both effectively and efficiently redact personal information from video footage, automatic detection can be used to redact the same information through a few clicks of a drop-down menu. Automatic detection allows users to redact personal information in 6 distinct categories such as faces/heads, screens, license plates, paper, people, and vehicles. Much like manual redaction and object tracking, users will then be able to place various video editing effects within these 6 distinct categories. After a user selects their categories (in this example, License Plates) and applicable effects, the software will automatically detect and redact all license plates within a given video. With three simple steps:
Select "License Plates".
Select "Rectangle" as a shape.
Select "Blur" to blur the license plates.
Click done and viola.
The system will automatically scan your whole video and blur all license plates.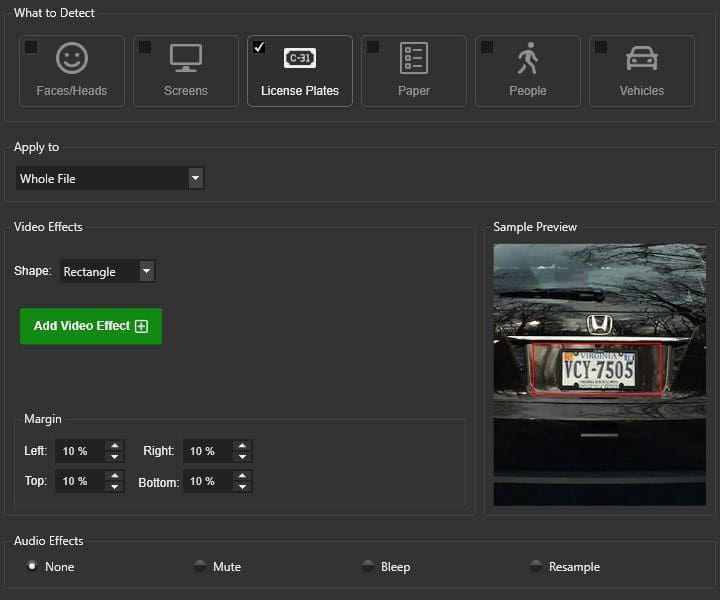 In the video below, intelligent video redaction software automatically redacts over 10,000 license plates in a matter of seconds. Watch how it could capture license plates from a variety of angles and redact every single one thoroughly and accurately.
The choice to opt for manual redaction, object tracking, or automatic detection will hinge on the specifics of the video being redacted and the requirements of the business looking to undergo the redaction process. For example, a small municipality looking to release camera footage detailing an accident would likely find more success with automatic detection due to the various license plates and moving objects that would undoubtedly be present in such a video. Conversely, someone looking to redact a single truck moving along a busy highway might instead opt for manual redaction or object tracking. Irrespective of which feature you ultimately. CaseGuard Studio is committed to providing clients with the highest quality of video redaction services possible.