Before you begin editing in CaseGuard, you need media to work with. CaseGuard is designed to handle a wide variety of supported media formats. You can work with video footage, audio files, images, and PDFs.
Get started importing
Importing your media into CaseGuard is simple.
Start or open a project using one of the following three different ways:

Go to File -> New Project / Open Project.
OR:
From the Shortcut Bar, click to create a new project / Click to open an existing project.
OR:
From the CaseGuard Studio start screen, on your keyboard press (Ctrl + N) to create a new project / (Ctrl +O) to open an existing project.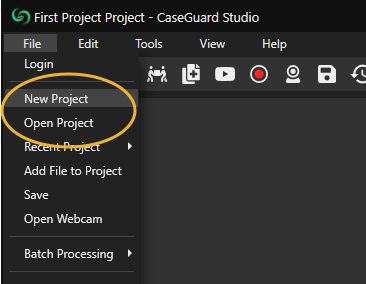 Select

the file you want to import.  If the file does not appear, select the option for showing all files from the Files Of Type.
Before you upload, please be aware that your original files can't be renamed once they're uploaded. Make sure you use the appropriate name before uploading them. However, the version you end up exporting can be renamed. To learn about file naming best practices, see Prepare Files for Import.

Import media: From the Project Files Panel, click
to add files to the project.
Click Open.
File may be automatically converted to a standard format. When this process is done, the converted file will appear in the Project Files list.